10:06am: The Celtics have officially announced that Stevens is the new president of basketball operations. Despite at least one report suggesting that Ainge isn't expected to retire from basketball (as noted below), the club's statement says the veteran executive is "retiring" from his role as president of basketball ops. Ainge will continue to work with the team through its offseason transition, per the C's.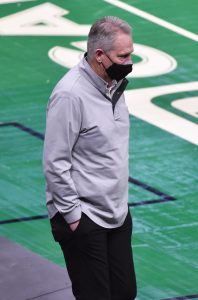 "Helping guide this organization has been the thrill of a lifetime, and having worked side-by-side with him since he's been here, I know we couldn't be in better hands than with Brad guiding the team going forward," Ainge said in a statement. "I'm grateful to ownership, all of my Celtics colleagues, and the best fans in basketball for being part of the journey."
Stevens issued a statement of his own, as follows:
"I'm grateful to ownership and to Danny for trusting me with this opportunity. I'm excited to tackle this new role, starting with a wide ranging and comprehensive search for our next head coach. I love the Celtics, and know the great honor and responsibility that comes with this job. I will give it everything I have to help us be in position to consistently compete for championships."
---
9:24am: A major shakeup is taking place in Boston, as Celtics president of basketball operations Danny Ainge will indeed step down from his current role, per ESPN's Adrian Wojnarowski (Twitter link). Wojnarowski had reported earlier in the morning that Ainge was seriously considering such a move.
The Celtics won't go outside the organization for Ainge's replacement, however. According to Shams Charania of The Athletic (Twitter links), head coach Brad Stevens will be making the move from the sidelines to the front office and will become the club's new president of basketball operations.
Rather than holding a dual role, Stevens will become a full-time front office executive and is expected to lead the search for the Celtics' new head coach, Charania reports.
Celtics players were informed of this potential change late on Tuesday night after the team was eliminated from the playoffs, says Chris Haynes of Yahoo Sports (Twitter link).
Ainge had been contemplating leaving his job as the Celtics' president of basketball operations for the last several months, according to Wojnarowski (Twitter link), who adds that Ainge had discussed possible succession plans with ownership.
While Stevens is a surprising choice as Ainge's successor, Wojnarowski points out that Ainge made a similar move early in his post-playing career, having coached the Suns from 1996-99 before later transitioning into a front office role. According to Woj (Twitter link), Stevens has been described as feeling "worn down" with coaching since last summer and welcome the opportunity to shift into an executive position.
This major basketball operations overhaul comes on the heels of the Celtics' early exit from the postseason. After making the Eastern Conference Finals in three of the last four years, Boston entered the season with aspirations of competing for a title.
However, due to COVID-19 issues, injuries, and inconsistent play, the team never built any real momentum toward legit contention, finishing seventh in the East. Although the C's earned a postseason berth via the play-in tournament, they were eliminated swiftly in the first round by the Nets.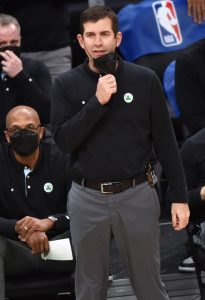 Despite the Celtics' disappointing season, Stevens and Ainge – one of the longest-tenured coach/executive duos in the NBA – weren't thought to be in any real danger of being fired. It appears Ainge's exit is of his own volition after he spent the last 18 years calling the shots in the team's front office.
Even though his time with the Celtics is ending, Ainge isn't believed to be leaning toward retirement, according to Chris Mannix of SI.com, who tweets that the Jazz have been rumored as a possible landing spot for the veteran exec.
Meanwhile, Lakers assistant Jason Kidd and former Hawks coach Lloyd Pierce are expected to be among the candidates to fill Boston's newly-created head coaching vacancy, according to Haynes (Twitter link).
In his eight seasons as the Celtics' head coach, Stevens led the team to a 354-282 (.557) regular season record, with a 38-40 (.487) mark in the playoffs, including those three Eastern Finals appearances. As for Ainge, the C's made the postseason in all but three of his 18 seasons running the front office, taking home a title in 2008.
Ainge's trades for Kevin Garnett and Ray Allen helped lead the Celtics to a title in 2008. Additionally, the blockbuster deal that sent an aging Garnett and Paul Pierce to the Nets for a boatload of draft picks in 2013 is considered one of the biggest NBA heists of the century, putting Boston in position to land Jayson Tatum and Jaylen Brown in subsequent drafts.
Photos courtesy of USA Today Sports Images.