Throughout the season, Hoops Rumors takes a closer look at players who will be free agents or could become free agents this offseason. We examine if their stock is rising or falling due to performance and other factors. With the playoffs in full swing, we take a look at players from the Eastern Conference: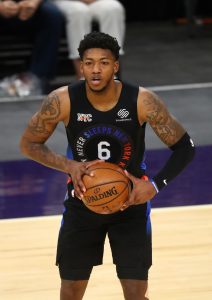 Elfrid Payton, Knicks, 27, PG (Down) – Signed to a one-year, $4.77MM deal in 2020
Payton's postseason role was reduced to something rarely seen in any sport – the starting lineup cameo. He played a few ineffective minutes, then never returned to the court for two games until coach Tom Thibodeau completely gave up on him. Payton started regularly all season but his post-All-Star break woes drove Knicks fans nuts. They won't have to worry about a repeat – Payton will be an unrestricted free agent. Payton has been a starter throughout his career but it's hard to imagine him getting much more than the veteran's minimum to fill out someone's bench next season.
Evan Fournier, Celtics, 28, SF (Down) – Signed to a five-year, $85MM deal in 2016
Fournier was the biggest acquisition the Celtics made at the trade deadline and they leaned on him heavily against the Nets with Jaylen Brown sidelined. Fournier averaged 15.4 PPG on 43.3% shooting from 3-point range in 33.4 MPG. Solid numbers, but he's not the type of player who can carry a team. Fournier is expected to seek a contract similar to the one he signed with the Magic five seasons ago but is he really a $17MM a year player? There's a general sense that Fournier may have to settle for the mid-level exception or something slightly above that figure.
Duncan Robinson, Heat, 27, SF (Up) – Signed to a three-year, $3MM deal in 2018
Robinson pumped in 24 points in Game 1 against the Bucks, then petered out the rest of the series. That won't hurt him in restricted free agency. The Heat have to make a lot of tough decisions this offseason – one of them will be how big an offer sheet they'd be willing to match to retain Robinson. First, they'll have to extend a $4.7MM qualifying offer but that's a formality. During last season's playoff run to the Finals, Robinson averaged 11.7 PPG. He's a career 42.3% 3-point shooter and he'll be looking for a big payday after playing on a rookie contract.
Alex Len, Wizards, 27, C (Down) – Signed to a one-year, $1.7MM deal in 2020
Len has passed through a handful of organizations over the past four seasons. He'll be on the move again as an unrestricted free agent. Len received 40 regular-season starts from the injury-depleted Wizards after getting waived by the Raptors. His playing time shrunk throughout the first-round series against Philadelphia – he played a grand total of three minutes in the last two games. Whether or not Thomas Bryant can effectively return from his knee injury next season, Washington needs to upgrade its frontcourt. It wouldn't be a surprise if the Ukranian-born Len explores European options.
Photo courtesy of USA Today Sports Images.