Throughout the season, Hoops Rumors takes a closer look at players who will be free agents or could become free agents this offseason. We examine if their stock is rising or falling due to performance and other factors. With the playoffs in full swing, we take a look at players from the Western Conference: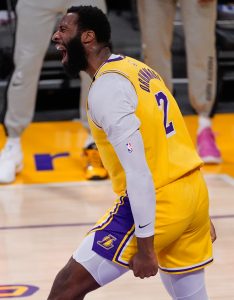 Andre Drummond, Lakers, 27, C (Down) – Signed to a one-year, $794K deal in 2021
Drummond had a golden opportunity to show he could perform in the biggest moments. He was reportedly promised a starting spot by the Lakers after he reached a buyout agreement with Cleveland and cleared waivers. Drummond withered in the spotlight and was benched for Game 6 of the first-round series with Phoenix.
Coach Frank Vogel lavished praise on Drummond after the season, saying "We're hopeful that he's a Laker for a long time." That seems like a long shot, considering how the postseason played out.
The two-time All-Star is still only 27 but his status has fallen dramatically over the past two seasons. He might be fortunate to receive the mid-level from a team seeking an elite rebounder.
Serge Ibaka, Clippers, 31, PF/C (Down) – Signed to a two-year, $19MM deal in 2020
Ibaka said last month he's been dealing with back pain all season caused by a pinched nerve. It continued to hamper him to the point where he underwent back surgery on Thursday. He only appeared in 41 games during the regular season and had been limited to two postseason games.
Several contenders were interested in Ibaka during free agency last year due to his postseason track record. He was considered the Clippers' most important addition during the offseason but now they'll have to strive for a championship without one of their top frontcourt players. Ibaka holds a $9.72MM option on his contract for next season and it's a safe bet he'll take the guaranteed money.
Langston Galloway, Suns, 29, SG (Down) – Signed to a one-year, $2MM deal in 2020
Galloway signed a one-year contract for the veteran's minimum to join an improving team seeking a second-unit shooter. He was Detroit's top reserve a season ago but the opportunities haven't been there in Phoenix. He only saw action in 40 games during the regular season and has made two cameos in the playoffs. The Suns have gone with a three-man rotation in the backcourt – Chris Paul, Devin Booker and Cameron Payne – rendering Galloway as a spectator. Galloway will likely have to settle for a similar contract next season from a team that promises to give him more playing time.
Tim Hardaway Jr., Mavericks, 29, SG (Up) – Signed to a four-year, $71MM deal in 2017
The Mavericks need to improve their supporting cast around Luka Doncic but they don't want to lose Hardaway. Despite his Game 7 clunker (11 points, 1-for-9 on threes), Hardaway and Dorian Finney-Smith were the team's most impactful players besides Doncic during the first-round series against the Clippers.
The Mavericks have made re-signing Hardaway a high priority. They'll have some competition for his services and they to be cognizant of weighing down their future cap with enigmatic Kristaps Porzingis on the books for three more seasons (including a player option). But Hardaway is in a good spot to get another lucrative multiyear deal.
Photo courtesy of USA Today Sports Images.