Nets guard Spencer Dinwiddie plans to decline his $12.3MM player option for next season and become a free agent, tweets ESPN's Adrian Wojnarowski. His deadline to make an official decision is Monday.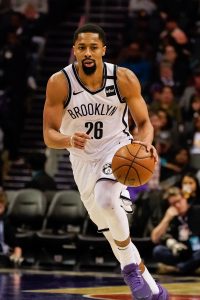 Dinwiddie suffered a partially torn ACL early this season that limited him to three games. The 28-year-old has spent the past five seasons with Brooklyn and posted his best career numbers in 2019/20, averaging 20.6 points, 3.5 rebounds and 6.8 assists per night.
Keeping Dinwiddie may not be in the Nets' plans because of their huge financial commitment to Kevin Durant, James Harden and Kyrie Irving. Brooklyn also has five other free agents to address this summer, including Bruce Brown, Jeff Green and Blake Griffin, who all played important roles during the postseason.
There should be a strong demand for Dinwiddie on the free agent market, and ESPN's Bobby Marks suggests his future could depend on what fellow free agents Kyle Lowry and Dennis Schroder decide to do. With the Heat, Bulls and Knicks all needing point guard help, at least one of those teams could make an offer to Dinwiddie.
Brooklyn could consider a sign-and-trade deal involving Dinwiddie, but that may require the team to take back salary, which would inflate its luxury tax payment, Marks adds. He notes that the Nets already have a projected $53.4MM tax bill for next season, which would double if they add another $12MM to their payroll.
However, the team is also limited is what it can do to acquire new talent, so it may not want to let Dinwiddie leave without getting something in return. Marks notes that tax-paying teams received a break this season because of the decline in BRI (basketball-related income) caused by the pandemic. A similar tax break next season could influence the Nets' thinking with Dinwiddie.
Another possibility Marks raises is to find a team this summer that's willing to trade for veteran center DeAndre Jordan without sending any salary back to Brooklyn. That would likely cost the Nets their first-round pick in this year's draft. Jordan wasn't used in the postseason and still has two years and nearly $20MM left on his contract.
Photo courtesy of USA Today Sports Images.