11:58am: The Thunder have officially confirmed the trade, announcing in a press release that they received Favors and a future first-round pick in exchange for a 2027 second-rounder and cash.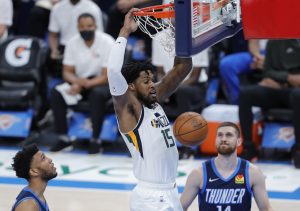 Oklahoma City likely took on Favors' contract using the $10.1MM trade exception it had available from last year's Danilo Gallinari trade. The Jazz will create a new $9.26MM trade exception in the swap.
---
7:10am: The Thunder and Jazz are in agreement on a trade that will send Favors and a future first-round pick to Oklahoma City in exchange for a future second-rounder, reports ESPN's Adrian Wojnarowski (via Twitter).
Utah is sending its 2022 first-round pick (top-six protected) to Memphis in another deal, so the first-rounder going to Oklahoma City figures to be in 2024 or later due to the Stepien rule.
---
6:40am: The Thunder and Jazz are engaged in serious talks on a potential trade that would send center Derrick Favors from Utah to Oklahoma City, according to Shams Charania and Tony Jones of The Athletic (Twitter link).
Favors, 30, signed a three-year contract with Utah last fall and posted modest numbers in his first season back with the team after a year in New Orleans. Favors averaged a career-low 5.4 PPG to go along with 5.5 RPG and 1.0 BPG in 68 games (15.3 MPG). It was his first NBA season in which he didn't start a single game.
Favors' contract isn't especially onerous — he has a $9.7MM guaranteed salary for 2021/22, followed by a $10.2MM player option for 2022/23. However, it'll likely be considered a negative asset given his dip in production last season and the fact that the Jazz are facing a serious cap crunch. If Utah re-signs Mike Conley and doesn't dump any salary, the team will face a substantial tax bill next season.
As a point of comparison, when the Pistons agreed to send Mason Plumlee to the Hornets on Thursday, Detroit moved down 20 spots in the draft to do so (from No. 37 to 57). Plumlee was more productive in 2020/21 than Favors and is owed less guaranteed money going forward.
The Thunder are no strangers to accommodating salary dumps, having used that approach multiple times to add to their stockpile of future draft picks within the last couple years. They could take on Favors without sending any money back to the Jazz by using one of their trade exceptions or by opening up cap room once the new league year begins.
It's unclear what sort of asset the Jazz might attach to Favors to get a deal done. There were rumors earlier in the week that they were discussing possible trades involving the big man and the No. 30 pick, but a 2021 selection is less likely to be involved now that all of those picks have been made. As such, Utah and Oklahoma City may be discussing a future draft asset.