The Cavaliers will not issue a qualifying offer to reserve center Isaiah Hartenstein ahead of the 2021/22 season, making him an unrestricted free agent, per Michael Scotto of HoopsHype (via Twitter).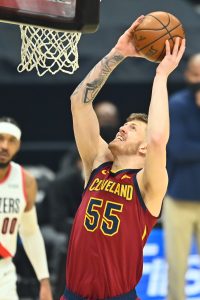 Hartenstein averaged 8.3 PPG, 6.0 RPG and 1.2 BPG across 17.9 MPG for a dismal 22-50 Cavaliers club last year. Cleveland's frontcourt has undergone a major upgrade already during the offseason, as the Cavaliers drafted promising USC big man Evan Mobley with the third pick in the 2021 draft on Thursday. The Cavaliers are also expected to hold on to incumbent starting center Jarrett Allen, a restricted free agent this summer.
Mobley seems destined to start at power forward or center, but whether Allen or current starting power forward Larry Nance Jr. is the odd man out will ultimately be determined by head coach J.B. Bickerstaff. Given that big man Kevin Love, a probable reserve, has two years and $60.2MM left on his exorbitant deal with the club and will be hard to trade this season, moving on from Hartenstein this summer makes sense from a minutes perspective.
Hartenstein, 23, was first selected by the Rockets in the 2017 NBA draft after a promising 2016/17 stint with Lithuanian pro club Žalgiris. After being waived by Houston in the 2020 offseason, the 7'0″ German then joined the Nuggets as a potential backup for eventual MVP Nikola Jokic ahead of the 2020/21 season. Hartenstein and two future Cleveland second-rounders were ultimately traded to Cleveland for an upgrade at the reserve center position in JaVale McGee.
Hartenstein declined a minimum-salary player option earlier this offseason.