August 24: The Celtics have officially extended Williams, per a team press release.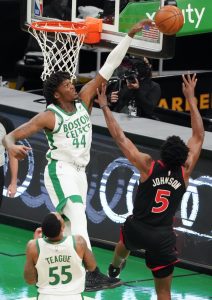 "Rob has embraced being a Celtic from day one," team president Brad Stevens said in a statement. "He is a great teammate and is completely committed to getting better. We're excited that he will continue to do so here in Boston."
---
August 20: After agreeing to a four-year contract extension with Marcus Smart earlier this week, the Celtics have reached a deal to extend another rotation player through 2025/26. The team is in agreement with big man Robert Williams on a four-year, $54MM deal, agent Kevin Bradbury tells ESPN's Adrian Wojnarowski.
Williams, who will turn 24 in October, saw limited playing time in his first two NBA seasons, partly due to injuries, but emerged as a regular contributor for Boston in 2020/21. In 52 games (18.9 MPG), including 13 starts, he averaged 8.0 points, 6.9 rebounds, and 1.8 blocks per contest. His impressive .721 FG% was right in line with his career rate (.720).
Despite only having appeared in 113 regular season games to date, Williams has flashed promise on both ends of the court and brings plenty of athleticism to the Celtics' frontcourt.
As Wojnarowski notes, the new four-year deal will put the former Texas A&M standout in the top half of NBA centers by annual salary, but he has the potential to outplay it if he stays healthy and continues to improve.
The timing of the deal is interesting. Typically, players eligible for rookie scale extensions reach deals closer to the October deadline, unless they're obvious max-salary players like Luka Doncic, Trae Young, and Shai Gilgeous-Alexander. Williams – the fourth player to receive a rookie scale extension in 2021 – is the first one of those four to agree to a deal worth less than the max.
[RELATED: 2021/22 NBA Contract Extension Tracker]
The fact that the Celtics were willing to sign off on a new deal for Williams nearly two months ahead of the deadline suggests they were eager to get the young center locked up and were comfortable with the price point.
The extensions for Smart and Williams all but assure Boston will enter the 2022 offseason as an over-the-cap team, barring some major roster moves between now and then.