AUGUST 21: The Celtics have officially signed Smart to his extension, the team announced today in a press release.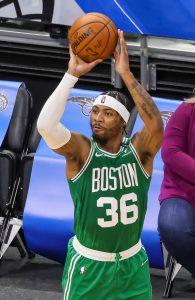 "There's nowhere else I'd rather play and no other fans I'd rather play in front of. I love Boston, and Boston loves me," Smart said in a statement. "We've had some great moments and success in my time here, but there's more to accomplish. I'm ready to put that Celtics jersey back on and get to work out on the Parquet with my teammates."
---
AUGUST 16: Longtime Celtics guard Marcus Smart will sign a four-year, $77.1MM contract extension with the team that drafted him, per Shams Charania of The Athletic (Twitter link). Charania adds that the deal will include a trade kicker.
Smart's new contract is fully guaranteed through 2025/26. There is no player option, according to Adrian Wojnarowski of ESPN, who notes that the new agreement will begin during the 2022/23 season.
Originally selected with the No. 6 pick in the 2014 draft out of Oklahoma State, Smart first re-signed with Boston on a four-year, $52MM deal that will take him through the 2021/22 season. A two-time All-Defensive Team selection, the 27-year-old guard has proved to be a valuable addition during seven playoff-bound NBA seasons with the Celtics.
The 6'3″ Smart, working mostly as a starter, averaged 13.1 PPG, 5.7 APG, 3.5 RPG and 0.5 BPG during the 2020/21 season. Beyond his raw numbers, Smart has shined as a wing and perimeter defender and operated as a vocal team leader.
Smart is earning $14,339,285 in 2021/22 and is eligible for a starting salary worth 120% of that amount on an in-season extension. The Celtics offered the maximum amount they could, so the new deal will start at $17,207,142 in '22/23 and will feature 8% annual raises, for a total of $77,087,994.
The Celtics' backcourt underwent two major transitions earlier during the 2021 offseason. Boston traded oft-injured former All-Star starting point guard Kemba Walker to the Thunder, then signed former starting Lakers point guard Dennis Schröder to a one-year, $5.89MM deal using the taxpayer mid-level exception.
Luke Adams contributed to this post.