AUGUST 13: Kanter has officially signed his contract, according to a team press release.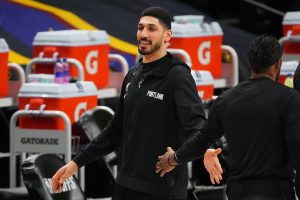 "Enes has a unique ability to both score and rebound. Beyond his on-court contributions, he is a great teammate. We are thrilled he chose to return to Boston," Celtics president Brad Stevens said in a statement.
---
AUGUST 4, 11:21am: Kanter's one-year deal will be worth $2.7MM, according to Adam Himmelsbach of The Boston Globe (Twitter link).
The veteran's minimum for a player with Kanter's 10+ years of experience is about $2.64MM, so it sounds this will be a minimum-salary contract.
However, Jared Weiss of The Athletic (Twitter link) says there's still a chance the C's could bump up that number and use part of the mid-level exception to complete the signing, depending on how the rest of the week plays out. Mark Murphy of The Boston Herald (Twitter link) hears that the club has "three or four balls still in the air," albeit nothing too major.
---
10:58am: The Celtics have reached an agreement to bring back veteran center Enes Kanter on a one-year contract, reports Shams Charania of The Athletic (Twitter link).
Kanter has bounced back and forth between Boston and Portland during the last few seasons. He finished the 2018/19 campaign with the Trail Blazers, spent '19/20 with the Celtics, rejoined the Blazers for '20/21, and is now headed back to the C's for the coming season.
Kanter is a reliable scorer and rebounder, who played in all 72 games for Portland in 2020/21 and averaged a double-double (11.2 PPG, 11.0 RPG) while logging just 24.4 minutes per game. He's not a strong defender, but he'll fill a hole in the Celtics' frontcourt following the departure of veteran center Tristan Thompson, who is being traded to Sacramento.
It's an interesting signing from an optics standpoint for the Celtics, who essentially salary-dumped Kanter a year ago when they sent his contract to Memphis along with the No. 30 pick in the draft (Desmond Bane) in exchange for two future second-rounders. A year later, new president of basketball operations Brad Stevens is signing up for a reunion with the 29-year-old.