AUGUST 16: The Grizzlies and Clippers have put out press releases officially announcing the trade.
---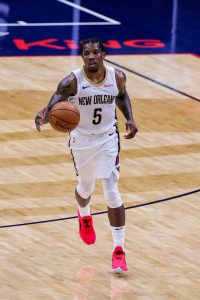 AUGUST 15: The Grizzlies and Clippers have agree to a trade that will send veteran point guard Eric Bledsoe back to Los Angeles in exchange for Patrick Beverley, Rajon Rondo, and Daniel Oturu, reports ESPN's Adrian Wojnarowski (Twitter link).
Bledsoe, who began his NBA career with the Clippers back in 2010, was traded from New Orleans to Memphis earlier in the offseason as part of a salary-dump deal that also sent Steven Adams to the Grizzlies. A report at the time of the agreement indicated that Bledsoe was unlikely to remain in Memphis, though it was unclear if the plan was to trade him or buy him out.
This trade, a three-for-one swap, will help generate some roster flexibility for a Clippers team that had been carrying 16 players on fully guaranteed contracts. Los Angeles will now have 14 players on guaranteed deals, plus Yogi Ferrell on a non-guaranteed salary.
Swapping out Beverley ($14.32MM), Rondo ($8.25MM), and Oturu ($1.52MM) for Bledsoe ($18.13MM) will also save the Clippers some money on a tax bill that was projected to be worth $125MM. According to ESPN's Bobby Marks (via Twitter), that projection will dip to about $95MM.
The three outgoing players are all on expiring contracts, while Bledsoe is on a pseudo-expiring deal — his $19.38MM salary for 2022/23 is only partially guaranteed for $3.9MM. Because only Beverley and Oturu are required for salary-matching purposes, L.A. will generate a trade exception worth Rondo's $8.25MM salary, Marks notes.
Although the Clippers will sacrifice a little depth in the trade, Bledsoe is a bounce-back candidate who could conceivably provide the club with some of the play-making and defense lost by moving Beverley and Rondo. Bledsoe had a down year with the Pelicans in 2020/21, but he averaged 5.5 assists per game during his time in Milwaukee from 2018-20 and earned All-Defensive nods in both seasons.
The Grizzlies, meanwhile, save a little 2022/23 money in the deal while taking on some extra salary for '21/22. Memphis is now facing a roster crunch of its own, with 17 players on fully guaranteed contracts.
According to Wojnarowsi (Twitter link), the Grizzlies will be "open-minded" in weighing additional roster moves involving Beverley, Rondo, and/or Oturu and will likely consider flipping one or more of them in separate deals.
Memphis is already relatively deep at the point guard spot, with Tyus Jones backing up Ja Morant and De'Anthony Melton also capable of playing the position. As such, it's hard to imagine both Beverley and Rondo starting the season with the club.
Because they're on smaller expiring deals, Beverley and Rondo should be easier for the Grizzlies to move in subsequent trades than Bledsoe was. The move to turn one bigger contract into multiple smaller ones is somewhat reminiscent of a trade the team completed during the 2019 offseason, sending out Chandler Parsons' oversized expiring deal for Solomon Hill and Miles Plumlee, who were each earning about half of what Parsons was.