AUGUST 9: Borrego's extension with the Hornets is now official, the team announced today in a press release.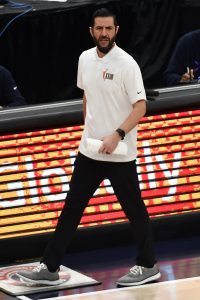 "We're extremely pleased with the job that Coach Borrego and his staff have done in their three years in Charlotte,"president of basketball operations Mitch Kupchak said in a statement. "Coach and his staff have built a strong player development program and it has resulted in the continued improvement of our young players. He has implemented an exciting style that our team likes playing and our Hornets fans enjoy watching. Coach has built strong relationships with our players, has demonstrated a great knowledge of the game and has provided tremendous leadership for our group.
"We're thrilled to have signed him to an extension and look forward to the future with him leading our team as we continue to grow and improve."
---
AUGUST 7: The Hornets and head coach James Borrego are finalizing a multi-year contract extension, ESPN's Adrian Wojnarowski tweets.
Charlotte had already decided to pick up its option on Borrego's contract for next season and this will give him more long-term security.
When Charlotte hired Borrego in 2018, he was given a contract with three guaranteed years, along with an option for the fourth. Although his record is just 95-124 with the Hornets, he has spent most of that time overseeing a rebuilding project.
Borrego was an assistant coach for eight years with New Orleans, Orlando and San Antonio before becoming a head coach. He served as an interim head coach with the Magic for 30 games during the 2014/15 season.