Clippers star Kawhi Leonard is turning down his $36MM player option for the 2021/22 season and will become an unrestricted free agent, reports Chris Haynes of Yahoo Sports. Today was the deadline for Leonard's option decision.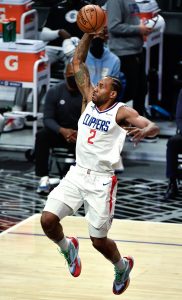 The opt-out comes as no surprise — that decision had been expected since Leonard signed his three-year deal with Los Angeles back in 2019, and it doesn't mean he's leaving the Clippers. Speaking last December about his contract situation, Kawhi acknowledged that "the best decision" from a financial perspective would be to turn down his option.
Of course, when Leonard made those comments at the start of the 2020/21 season, he included a caveat: "If I'm healthy." That's not the case, as he recently underwent surgery to repair a partial tear of his right ACL. There's a fear that the two-time Finals MVP could miss part or even all of the '21/22 campaign.
Still, even taking that injury into account, opting out makes the most sense for Leonard, who will receive a new maximum-salary contract despite the fact that he won't be ready to play this fall. He now has 10 years of NBA experience under his belt, which means he can bump his salary for next season to 35% of the cap – a projected maximum of $39.3MM – and perhaps lock in some additional years.
While the Mavericks and a handful of other teams are expected to kick the tires on Leonard, the Clippers are considered the overwhelming favorites to sign him to a new deal, as Haynes confirms.
The Clips only hold Leonard's Early Bird rights, which will limit the team to a four-year offer (worth a projected $176.3MM). If he wants to maximize his long-term earnings, Kawhi could sign a one-plus-one contract this offseason and then opt out again next summer to sign a new five-year contract with the Clippers once they have his full Bird rights.