AUGUST 6: The Kings have officially re-signed Holmes, the team announced today in a press release.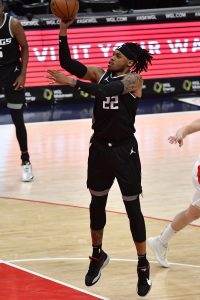 "This is a great day for Richaun and the entire Kings organization," GM Monte McNair said in a statement. "Richaun brings toughness, skill and versatility to the court. His energy is the perfect fit for our style of play and he represents the values of this organization. I'm excited to see what the future holds for him and this tremendously talented team we're building."
---
AUGUST 2: The Kings and center Richaun Holmes are in agreement on a four-year contract that could be worth up to $55MM, his agency tells Shams Charania of The Athletic (Twitter link). According to Charania, the deal includes a fourth-year player option and a trade kicker.
Holmes, 27, is coming off two impressive seasons in Sacramento, including perhaps the best year of his career in 2020/21. He averaged 14.2 PPG, 8.3 RPG, and 1.6 BPG on 63.7% shooting in 61 games (29.2 MPG) this past season, putting himself in position for a significant payday this summer.
There was a sense leading up to free agency that the Kings might have a hard time retaining Holmes, since the team only had his Early Bird rights, limiting the starting salary it could offer him without opening up cap space. Charlotte, Toronto, and Dallas were among the teams expected to have interest in prying him away from Sacramento.
However, Holmes' agreement with the Kings suggests that those other presumed suitors didn't make an aggressive play for the big man, opening the door for Sacramento to bring him back.
For what it's worth, $55MM over four years is quite a bit more than the Kings could offer Holmes using his Early Bird rights, and there's no indication that the team is clearing cap room to complete the deal, so that figure coming from the agent may be a generous one — I'd expect the base value of the contract to come in lower than that. The four-year Early Bird amount is a little shy of $47MM.
The Kings have now addressed the center position by lining up deals with Holmes and Alex Len, and reportedly have a deal in place to acquire Tristan Thompson from Boston as well.