The Knicks have added forward Jericho Sims on a two-way contract, the team announced today in a press release (Twitter link). The deal will cover two seasons, tweets Keith Smith of Spotrac.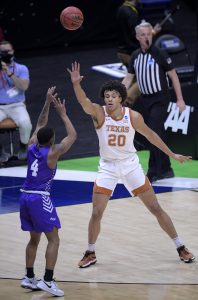 Sims, selected with the No. 58 pick out of Texas, will be eligible to appear in 50 games with New York while on his two-way contract. If the Knicks want to play Sims in more than 50 games, his contract would need to be converted to a standard deal.
As a two-way player, Sims also figures to spend time with the Knicks' Westchester affiliate during the season for further development. A four-year college player, the 22-year-old was honored with an All-Big 12 Team selection during his final season in Austin.
The 6'10" big man averaged 9.2 PPG, 7.2 RPG and 1.1 BPG across 27 games for the 2020/21 NCAA regular season, including 26 starts. He also connected on 69.6% shooting from the field, the second-best field goal percentage in UT's history for a single year.
It was previously rumored that Sims, currently with New York's Summer League squad in Las Vegas, would most likely join the Knicks on a two-way deal. The Knicks still have a second slot in which to ink a two-way player for the upcoming 2021/22 season.