Veteran big man LaMarcus Aldridge, who announced his retirement in the spring due to a heart-related health scare, is seriously contemplating the possibility of returning to the NBA, reports ESPN's Adrian Wojnarowski (Twitter links).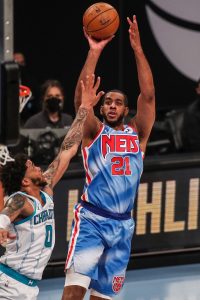 As Wojnarowski explains, Aldridge would require team medical clearance in order to sign a contract and take the court again. He hasn't made a final decision yet on whether or not to attempt a comeback, but he's expected to have discussions with teams in the coming weeks, sources tell ESPN.
Aldridge released a Twitter statement on April 15 explaining that he had decided to end his career after experiencing an irregular heartbeat during his last game. He had dealt with heart issues before, being diagnosed with Wolff-Parkinson-White syndrome during his rookie season in 2007 and missing time due to a heart arrhythmia in 2017.
In a June interview, Aldridge said he felt his heart racing on the morning of his final game, but believed it would go back to normal once he got on the court.
"It was still off after the game, but at like two, three in the morning, it got really, really crazy," Aldridge recalled. "My heart was beating really crazy, and that's when it got really bad for me. From two to five in the morning, I was just trying to evoke some breathing and then around 5:30 or so, I texted the team doctor and I went to the hospital. It was probably the scariest night ever."
The retirement announcement was shocking because Aldridge had been with the Nets for less than three weeks. He chose to come to Brooklyn after reaching a buyout agreement with the Spurs in late March. Aldridge had been shut down in San Antonio while the team searched for a trade partner. He played just five games for Brooklyn, averaging 12.8 points and 4.8 rebounds in 26 minutes per night.
"It was very tough. I definitely wasn't ready to hang it up and I still felt like I had more to give to a team and I feel I had a lot to give to the Nets," Aldridge said. … "Basically, that night being so freaked out — and knowing I have kids, my mom, a lot of people depending on me and a lot of people that I want to see going forward — I just felt like I was blessed by God to play 15 years with this condition, and I didn't want to push it anymore."
Aldridge's situation is similar to that of former Heat big man Chris Bosh, who had to end his career because of a recurring issue with blood clots. Bosh also wanted to attempt a comeback, but was never able to get medical clearance. However, Aldridge elected to retire on his own, while the decision for Bosh was made by the Miami medical staff.
If Aldridge can get medically cleared to play again, he could be a valuable addition for a contender, even at age 36. He was effective for the Spurs last season, starting 18 games at center and averaging 13.7 points and 4.5 rebounds, before the franchise opted to give more time to younger players.