We're now 10 days into the NBA's 2021 free agent period, and the list of intriguing names on the open market has shrunk significantly, as has the number of open regular-season roster spots around the NBA.
Before the start of free agency, we listed 75 free agents we were keeping a close eye on this summer — our top 50 players, plus 25 others who earned honorable mention.
Of our top 50 free agents, only four remain unsigned, and three of those four are restricted. Of our 25 names who received honorable mention, just five are still on the board.
Here's the breakdown of which of those players are still available: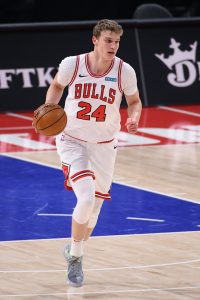 Top 50:
Honorable mention:
The restricted free agents on these lists are the most interesting cases. I'd expect at least two or three of them to return to their current teams, but those standoffs may drag out a little longer, given the lack of leverage available to the players.
Markkanen, meanwhile, has said he wants a "fresh start," so a sign-and-trade deal sending him elsewhere may be in the best interests of both him and the Bulls. However, it remains to be seen whether  a sign-and-trade will come together, given the high asking prices put forth by both Markkanen (in terms of salary) and the Bulls (in terms of the trade return). It's possible the free agent forward will resort to accepting his $9MM qualifying offer.
As for the veterans on this list, they may not be major impact players, but they should have no problem earning rotation roles in 2021/22 as long as they're healthy. Millsap, in particular, would be a solid addition for any playoff team looking to fortify its frontcourt with a savvy, defensively-sound veteran.
As our running list of free agents shows, there are plenty of other noteworthy names still on the open market.
Teams seeking more backcourt help may take a look at former lottery picks Frank Ntilikina, Dennis Smith Jr., and Dante Exum, or veterans such as Isaiah Thomas, Langston Galloway, Jeff Teague, E'Twaun Moore, and Tyler Johnson. Jordan McLaughlin shouldn't be overlooked either, though he's a Timberwolves RFA who may be difficult to pry away without an overpay.
Shooters like Garrison Mathews, Wesley Matthews, and Denzel Valentine are still on the board, as are defensively versatile wings like Stanley Johnson, Timothe Luwawu-Cabarrot, Rondae Hollis-Jefferson, and Andre Roberson.
Ersan Ilyasova, Patrick Patterson, and Mike Scott could be players of interest to teams looking for a frontcourt player capable of stretching the floor. DeMarcus Cousins, Bismack Biyombo, Ed Davis, and Isaiah Hartenstein are among the other big men still available.
What do you think? Which free agents still on the board – either among those we mentioned or those we didn't – do you believe are capable of moving the needle for NBA teams this season?