The NBA's free agent period will tip off on Monday evening at 5:00 pm central time, with deals permitted to be officially consummated as of Friday at 11:01 am CT.
Listed below are our top 50 free agents for the 2021/22 NBA season. The players on this list are on track to become free agents tonight.

Our rankings take into account both a player's short-term and long-term value. If we were to consider solely a player's worth for the 2021/22 season, veterans like Danny Green and P.J. Tucker would likely place higher, while younger free agents with upside, such as Talen Horton-Tucker or Josh Hart, might be ranked a little lower.
In addition to the players listed below, there are plenty of other notable free agents available this summer. You can check out our breakdowns of free agents by position/type and by team for the full picture.
Here are our top 50 free agents of 2021:
---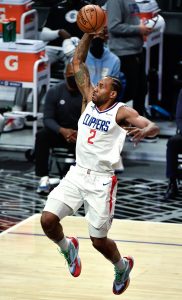 1. Kawhi Leonard, F, Clippers
Leonard's free agency is reminiscent of Kevin Durant hitting the market in 2019 after suffering a torn Achilles. An injured Durant earned a four-year, maximum-salary deal two years ago, and Leonard could do the same this offseason, despite an expectation that he'll miss much of next season while he recovers from ACL surgery. A reunion with the Clippers appears likely for Kawhi, who chose Los Angeles in 2019 despite having just won a title in Toronto.
2. John Collins, F, Hawks (RFA)
Collins bet on himself when he turned down Atlanta's reported extension offer of $90MM+ over four years last offseason. He should do better than that as a restricted free agent, and he might not even have to go shopping for an offer sheet — recent reports have indicated rival suitors aren't optimistic about their odds of prying him away from the Hawks.
3. Chris Paul, G, Suns
Two years ago, suggesting that Paul might turn down the $44MM+ option on his contract for 2021/22 would've gotten you laughed out of the room. But after earning All-NBA Second Team honors and leading Phoenix to its first NBA Finals in nearly three decades, Paul is poised for one last big payday after opting out of his previous deal. Rumors are circulating that he and the Suns will work out a new three-year contract worth at least $90MM.
4. Kyle Lowry, G, Raptors
Lowry isn't in the conversation alongside Paul as one of the all-time best point guards, but there are plenty of similarities between the two veterans, who both have a major impact on winning that goes beyond the box score. Count the Heat, Mavericks, and Pelicans among the many teams that recognize Lowry's value — they all reportedly made him their top free agent target, with Miami currently considered the frontrunner to land him.
5. Mike Conley, G, Jazz
There's no shortage of All-Star veteran point guards on this year's free agent market, and you could make a case that Conley is a safer long-term bet than Paul or Lowry, given their respective ages. It sounds like the Jazz are prepared to make that bet on Conley to the tune of a three-year offer worth upwards of $25MM annually.
6. Jarrett Allen, C, Cavaliers (RFA)
The Cavaliers surrendered a first-round pick for Allen earlier this year and are unlikely to let him get away, even after using the No. 3 overall pick to draft Evan Mobley, whose best long-term fit may be at center. Allen appears to be in line for a long-term deal in the range of at least $15-20MM per year, and that number could creep even higher if a suitor with cap space emerges to put some pressure on the Cavs.
7. Lonzo Ball, G, Pelicans (RFA)
Although Ball has taken positive steps forward – shooting a career-best 37.8% on three-pointers in 2020/21 – and has earned praise from star teammates Zion Williamson and Brandon Ingram, the Pelicans seem lukewarm on the idea of bringing him back, having been linked to a handful of other free agent point guards in recent weeks. If New Orleans misses out on its top targets, perhaps its relationship with Ball will continue. Otherwise, the Bulls look like the top suitor to watch.
8. DeMar DeRozan, G/F, Spurs
DeRozan's lack of a three-point shot (he has made 35 in the last three seasons) is an oddity for a wing in the modern NBA, but his mid-range game is deadly and he has become a legitimately dangerous play-maker, averaging a career-best 6.9 assists per game in 2020/21. DeRozan probably won't make $27.5MM per year on his next deal like he did on his last one, but he's one of the most talented offensive players available this summer and shouldn't be overlooked.
9. Norman Powell, G, Trail Blazers
Powell picked a good time to have a career year, racking up 18.6 PPG on .477/.411/.871 shooting in 69 games for Toronto and Portland. He's a versatile contributor on both offense – where he can comfortably score at the rim or knock down a corner three – and on defense, where he's capable of guarding multiple positions. He's a lock to get a raise on last year's $10.9MM salary.
10. Dennis Schröder, G, Lakers
Schröder reportedly turned down a four-year extension offer worth more than $80MM during the season, perhaps believing that he could squeeze the Lakers for a more lucrative deal in the offseason. Now that Los Angeles has agreed to trade for Russell Westbrook though, a reunion with Schröder seems like a long shot, meaning he may have to seek out a team with cap space or try to figure out a sign-and-trade deal that gets him in the ballpark of his asking price.
11. Spencer Dinwiddie, G, Nets
Dinwiddie missed nearly the entire 2020/21 season due to a partial ACL tear, but has apparently been generating plenty of interest leading up to free agency, having been linked to the Wizards, Pelicans, Heat, and Knicks, among several other teams. I initially projected Dinwiddie's contract to be a step down from the ones signed by Ball and Schröder, but now I'm not so sure.
12. Duncan Robinson, F, Heat (RFA)
A career 42.3% shooter from three-point range, Robinson will hit the market a year after sharpshooters Joe Harris and Davis Bertans got long-term deals worth $16-18MM per year. There's no reason for Robinson not to pursue a similar payday with the Heat, who should make a strong effort to keep him.
13. Tim Hardaway Jr., G/F, Mavericks
Hardaway has posted the two best three-point shooting percentages of his career in his two seasons in Dallas, making himself a key part of Luka Doncic's supporting cast. Dallas will reportedly prioritize getting him locked up to a new deal.
14. Evan Fournier, G, Celtics
Many of the players who earned their first big NBA paydays during the salary cap boom of 2016 failed to come close to matching those contracts the next time they reached the open market. Fournier has a chance — the five-year deal he signed in '16 had a per-year value of $17MM, and it won't be a surprise if he exceeds that figure this time around, albeit perhaps on a three- or four-year contract.
15. Richaun Holmes, C, Kings
With no star centers set to hit the market this summer, a reliable, ascendant player like Holmes should receive plenty of interest from teams looking for a solution up front. Holmes doesn't stretch the floor at all, but he's a talented rim runner, rebounder, and rim protector who is coming off a career year at age 27. The Kings reportedly want to re-sign him, though they're somewhat limited by cap constraints since they only hold his Early Bird rights.
16. Gary Trent Jr., G, Raptors (RFA)
When the Raptors dealt Powell for Trent at the trade deadline, Powell's looming payday was thought to be a factor. Trent is in line for a payday of his own though, likely in the neighborhood of $15-20MM per year. He's only 22 years old and is developing into a very solid three-and-D wing, having knocked down nearly 40% of his threes over the last two seasons.
17. Devonte' Graham, G, Hornets (RFA)
Graham isn't an especially efficient scorer, as evidenced by his .377 FG% in 2020/21. That's primarily a result of his struggles scoring inside the arc — his three-point mark was a very respectable 37.5% and he's an above-average play-maker. A team in need of a point guard that misses out on one of the top options may want to kick the tires on Graham to see how committed the Hornets are to bringing him back, given their fairly loaded backcourt.
18. Lauri Markkanen, F, Bulls (RFA)
Markkanen looked like he was on the way to developing into a prototypical stretch four when he averaged 16.7 PPG and a .362 3PT% in his first two NBA seasons, but his play has been up and down since then and it's not clear whether he has a future in Chicago. A team with interest in Markkanen may not have much trouble getting the Bulls to agree to a sign-and-trade.
19. Kelly Oubre, F, Warriors
Although he has the look of a prototypical NBA wing, Oubre is an erratic three-point shooter (31.6% in 2020/21) and isn't a lockdown defender. At age 25, there's still some upside here, but interested teams may be wary of making the kind of investment he'll be seeking.
20. Kelly Olynyk, F/C, Rockets
It flew under the radar because he was doing it for the last-place Rockets, but Olynyk finished the 2020/21 season on an incredible roll, averaging 19.0 PPG, 8.4 RPG, and 4.1 APG on .545/.392/.844 shooting in 27 games (31.1 MPG) for Houston. While he's not going to get a $100MM+ contract on the basis of those 27 games, Olynyk provided an effective reminder that he can be a very productive stretch big man.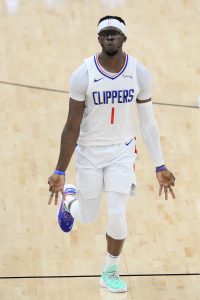 21. Reggie Jackson, G, Clippers
After settling for a minimum-salary contract last offseason, Jackson won't have to do so again this summer. He followed up a strong regular season in which he averaged 10.7 PPG with a .433 3PT%, by increasing his stock further in the playoffs, putting up 17.8 PPG on .484/.408/.878 shooting and ensuring that the Clippers stayed competitive after Leonard went down with his knee injury.
22. Doug McDermott, F, Pacers
McDermott is considered a three-point specialist, and he certainly does that well, having knocked down 41.1% of his attempts from beyond the arc during his three years with the Pacers. He has also shown he's more than just a catch-and-shoot player, developing new ways to score off the dribble and inside the arc — his 13.6 PPG and .532 FG% in 2020/21 were easily career highs.
23. Kendrick Nunn, G, Heat (RFA)
Nunn was in and out of the Heat's rotation in 2020/21. When he got regular playing time, he certainly proved worthy of it, increasing his shooting efficiency to .485/.381/.933. He may get overlooked a little in what will be a strong point guard class, but he deserves a significant raise after earning the minimum for the last two seasons.
24. Josh Hart, F, Pelicans (RFA)
Hart's 33.6% three-point rate since his rookie season hurts his stock a little, but he's a strong defender and an exceptional rebounder from the wing (8.0 RPG in 2020/21) who is still just 26 years old. I expect the Pelicans to pay $12-14MM per year to keep him around — if they don't, another team likely will.
25. Will Barton, G, Nuggets
Jamal Murray's absence was a bigger deal, but the Nuggets also missed Barton down the stretch and early in the postseason. He's turned into a reliable outside shooter and secondary play-maker who has the size to take on a variety of defensive assignments. He turned down a $14.7MM player option, which reflects how he feels about his value.
26. Derrick Rose, G, Knicks
The former MVP has evolved into a very productive role player, willing to come off the bench and run the second unit. His return to New York via a midseason trade from Detroit helped buoy the Knicks to a top-five seed in the East, as the team went 24-11 in games he played (and 17-20 in games without him).
27. T.J. McConnell, G, Pacers
Season ticket sales won't explode by the thousands for the team that signs McConnell, but that club will be getting a tough, reliable role player whose modest scoring numbers undersell his value. He's a strong distributor on offense, racks up steals on defense, and made 55.9% of his field goal attempts in 2020/21 despite not being much of a threat from beyond the arc.
28. Nerlens Noel, C, Knicks
A former sixth overall pick, Noel may never live up to his pre-draft ceiling, but the version of the big man we saw in 2020/21 could help any team. Noel is a fearsome rim protector (2.2 BPG in just 24.2 MPG) and an athletic finisher who has no problem running the floor.
29. Bruce Brown, G/F, Nets (RFA)
A physical and versatile defender, Brown was a good fit in Brooklyn along some of the most talented scorers on the planet, playing virtually every position on the court. Ideally, you'd like to see some improvement on his three-point shot, but his existing skill set and his age (25 later this month) makes him worth a strong multiyear investment.
30. Alex Caruso, G, Lakers
A guard in the mold of McConnell and Brown, Caruso is hardly a threat to put up 30 points a night, but derives plenty of value from the other things he can do on the court, including excellent perimeter defense.
31. Daniel Theis, C, Bulls
Theis is a tough, underrated defender whose teams in Boston allowed fewer points when he was on the court, even if he wasn't piling up blocked shots like Noel and other centers. In 23 games in Chicago to finish last season, he also cracked double-digits in scoring for the first time (10.0 PPG). A mid-level type offer for Theis seems realistic.
32. Reggie Bullock, G/F, Knicks
Following an injury-plagued 2019/20 campaign, Bullock bounced back in a big way in 2020/21, knocking down a career-best 2.5 threes per game at a 41.0% rate. As a full-time starter for a playoff team and a dependable shooter, Bullock has earned a raise on last year's $4.2MM salary.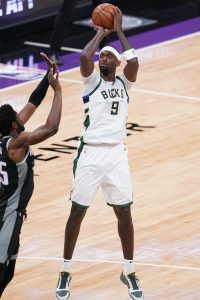 33. Bobby Portis, F/C, Bucks
Among qualified players, only two players had a higher three-point percentage in 2020/21 than Portis' 47.1% mark. The big man's calling card is toughness and rebounding rather than shooting, but that ability to stretch the floor and his performance during Milwaukee's title run will help make him a popular target in free agency. It sounds like he may be willing to accept another team-friendly deal to run it back with the Bucks though.
34. Alec Burks, G, Knicks
Like Bullock, Burks had arguably his best shooting season with the Knicks in 2020/21, establishing new career highs in threes per game (2.1) and three-point percentage (41.5%). Burks figures to be a popular mid-level target for teams in need of wing depth.
35. Danny Green, G/F, Sixers
A three-time NBA champion and a career 40%+ three-point shooter, Green remains somewhat underrated — Philadelphia missed him in the playoffs following his calf injury. At age 34, he may not inspire a major bidding war, but he'll draw interest from plenty of playoff teams if the 76ers don't lock him up right away.
36. Talen Horton-Tucker, G, Lakers (RFA)
Horton-Tucker's NBA résumé is as limited as anyone's on this list, but he has a couple key factors working in his favor. At age 20, he's the youngest player in this top 50. And as a Laker, he may receive interest from teams looking to put financial pressure on the 2020 champs by making them match an aggressive offer sheet.
37. Andre Drummond, C, Lakers
After spending most of his career putting up huge stats on lottery teams or lower-level playoff clubs, Drummond had an opportunity in 2020/21 to show he could play a role for a winner. It didn't go great — he ended up being a DNP-CD in the Lakers' last playoff game. Drummond is still in his prime (28 next Thursday) and his scoring and rebounding numbers should earn him mid-level interest, but I'll be surprised if he gets anywhere near the $28MM he'd been making with Cleveland.
38. Hamidou Diallo, G, Pistons (RFA)
Diallo was a player that Pistons GM Troy Weaver specifically targeted prior to the March trade deadline due to his athleticism and defensive ability, so the team figures to lock him up to a three- or four-year deal as a restricted free agent. If Diallo is able to come anywhere close to matching the .390 3PT% he posted after arriving in Detroit, the Pistons could get a bargain.
39. Nicolas Batum, F, Clippers
As it turns out, the perception of Batum as a minimum-salary player is far more favorable than the perception of him as a $120MM man. The veteran forward showed in Los Angeles in 2020/21 that he can still bring plenty to the table — he's a lengthy, switchable defender who is an above-average rotation player when he's hitting his threes, as he was this past season (40.4%).
40. P.J. Tucker, F, Bucks
Tucker's physical, versatile defense and his ability to hit a corner three helps make up for the fact that he doesn't really bring anything else to the table on offense (2.6 PPG in 20 games for the Bucks). Milwaukee holds the 36-year-old's Bird rights and will likely be willing to give him a two-year deal worth $8-10MM per season.
41. Patty Mills, G, Spurs
The longest-tenured Spur, Mills remains a reliable outside shooter (his worst-ever single-season 3PT% was 34.1%) and perimeter defender. With San Antonio going through a retooling process that includes an influx of young guards, it will be interesting to see if the veteran – turning 33 next week – is inclined to join a team closer to title contention or if he'll try to play out his career with the Spurs.
42. JaMychal Green, F, Nuggets
Green turned down a $7.6MM player option, a sign that he believes his value on the open market should be at least in that range. And he's probably right — he has made 39.5% of his three-pointers during the last three seasons, an impressive mark for a player who is physical enough to hold his own battling power forwards and centers around the basket.
43. Cameron Payne, G, Suns
Entering the 2020 Walt Disney World bubble, Payne was considered lucky to even get a minimum-salary flier with the Suns. After thriving in Disney and carrying that success over to 2020/21, Payne should no longer have to scour the market for a minimum offer. A 45.1% shooter on three-pointers since last summer, the former first-round pick has some room to regress a little and still be an effective backup point guard.
44. Terence Davis, G, Kings (RFA)
Davis' reported asking price of $9MM per year may be slightly high, but it wouldn't be a surprise to see him earn a multiyear contract in the $6-8MM range if teams are confident his legal issues are behind him. The Kings have a crowded backcourt led by De'Aaron Fox, Tyrese Haliburton, and Davion Mitchell, but Davis has the size to play alongside any two of those players in three-guard lineups.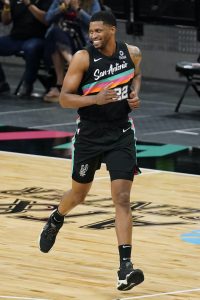 45. Rudy Gay, F, Spurs
Gay remains a productive frontcourt scorer (11.4 PPG with a .381 3PT% in 21.6 MPG in 2020/21), and while he's not an elite defender, his size allows him to match up with most forwards. Given his age (35 this month), it may be a challenge to find more than a two-year deal.
46. Blake Griffin, F/C, Nets
Griffin is owed another $30MM by the Pistons before the team's commitment to him officially ends, so he may prioritize fit and playing time in free agency over the highest possible offer — that could mean a return to Brooklyn, where he acquitted himself well in a part-time role, putting up 10.0 PPG, 4.7 RPG, and 2.4 APG on .492/.383/.782 shooting in 26 regular season games (21.5 MPG).
47. Paul Millsap, F, Nuggets
Millsap played a huge part in improving Denver's defense and turning the Nuggets into a serious contender over the last four years. With Aaron Gordon now locked into the starting four role in Denver, he may end up seeking a new team. At age 36, Millsap is clearly on the decline, but could probably still be relied upon for 20 solid minutes per night as a team's third big man.
48. Malik Monk, G, Hornets
Teams with interest in Monk will have to do their homework on him, as his four years in Charlotte were very up and down and his drug-related suspension in 2020 was concerning. There's real upside here though. Monk is only 23 years old and finally showed why this past season why he was considered one of the best shooters in the 2017 class, hitting 40.1% of his three-pointers at a high-volume rate.
49. Lou Williams, G, Hawks
It may feel like Williams has been around forever, but the three-time Sixth Man of the Year is younger than several players above him on this list — he'll turn 35 in October and showed during Atlanta's Eastern Conference Finals run that he still has plenty left in the tank as an instant-offense option off the bench. He's reportedly seeking a multiyear deal.
50. Victor Oladipo, G, Heat
No player's placement on this list was more difficult than Oladipo's. A fully healthy version of the two-time All-Star is easily a top-five free agent this summer, but we haven't seen that version since before he first injured his quad tendon in 2019. Leaving Oladipo out of the top 50 feels like a mistake, given his ceiling, but it also feels misguided to put him much higher, since at least one report suggested he could sit out the entire year and reenter free agency in 2022 following his latest quad tendon surgery. Oladipo is one of the most dynamic two-way shooting guards in the NBA when healthy — hopefully we see that player again.
---
Here are 25 of the other free agents we considered, in alphabetical order: