AUGUST 9: The Mavericks have officially re-signed Hardaway, the team announced today in a press release. Bartelstein tells Stein (Twitter link) that the total value of THJ's four-year deal came in at $75MM.
Tim MacMahon of ESPN reports (via Twitter) that Hardaway's new contract will decline in value across each of its four seasons. Hardaway will earn $21.3MM during the first year of the agreement, 2021/22, and that number will eventually dip to $16.2MM for Hardaway's age-32 season, 2024/25.
---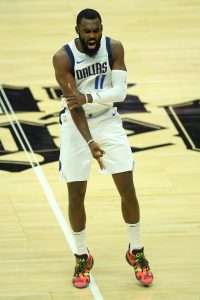 AUGUST 2: The Mavericks and their top free agent, guard Tim Hardaway Jr., have agreed to a four-year, $72MM contract, Shams Charania of The Athletic tweets.
Agent Mark Bartelstein tells ESPN's Adrian Wojnarowski (Twitter link) that the actual value is $74MM, so we may have to wait to see the official terms once it's finalized. Marc Stein of Substack (Twitter link) first reported that the Mavs were expected to re-sign the veteran wing.
Hardaway is one of the top unrestricted free agents on the market and Dallas prioritized bringing back one of its primary offensive threats.
Hardaway, 29, averaged 16.6 PPG, 3.3 RPG and 1.8 APG last season while shooting 39.1% from the field. He also excelled in the postseason, then said after the season he was hoping he could work out a deal with his current club.
"If you were to talk to anybody in this organization and anybody that's around me, they will definitely say that I love it here," Hardaway said.
Hardaway's four-year, $71MM deal he signed with the Knicks in 2017 expired at the end of the season.