AUGUST 10: Mills' contract with the Nets is now official, the team announced today in a press release.
---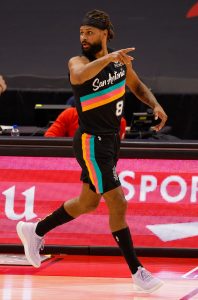 AUGUST 3: The Nets have agreed to sign free agent guard Patty Mills to a two-year, $12MM contract, agent Steven Heumann tells Adrian Wojnarowski of ESPN (Twitter link).
The deal will feature a second-year player option, according to Wojnarowski. Given Brooklyn's cap situation, the team will complete the signing using the taxpayer version of the mid-level exception. As we outlined earlier today, a two-year deal worth the full taxpayer's MLE is worth about $12.07MM.
Mills, who will turn 33 next Wednesday, had been one of the few players in the NBA who had spent the last decade with the same team, having made his Spurs debut way back in 2011.
He has been a reliable and consistent bench contributor for San Antonio during that stretch, knocking down 38.9% of his three-point attempts and never making fewer than 34.1% in a single season. In 2020/21, Mills averaged 10.8 PPG and 2.4 APG on .412/.375/.910 shooting in 68 games (24.8 MPG).
Nets general manager Sean Marks played alongside Mills in Portland during the 2010/11 season and then was in San Antonio's front office and on the Spurs' coaching staff during Mills' first few years with the team, so he's very familiar with the veteran guard.
The Spurs have been shifting more into rebuilding mode within the last couple years, so it made sense for Mills to seek out a contract with a contender. He had been a popular target on the free agent market, with the Lakers and Warriors among the other teams believed to be pursuing him.
The Nets' willingness to use their full taxpayer mid-level on the veteran guard reflects how much they like him, as the deal will cost the team exponentially more in cap penalties than the $5.89MM Mills will earn in 2021/22. Bobby Marks of ESPN tweets that the signing will increase Brooklyn's projected tax bill from $92.6MM to $121.8MM.