AUGUST 10: Jackson has officially re-signed with the Pistons, according to NBA.com's transactions log. The two-year deal is worth $6.2MM with a second-year team option, per Michael Scotto of HoopsHype (Twitter link).
---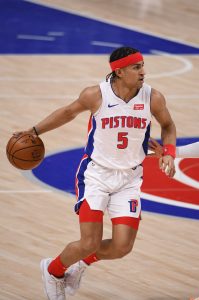 AUGUST 9: The Pistons will be bringing back restricted free agent point guard Frank Jackson, reports Adrian Wojnarowski of ESPN (via Twitter). Jackson is set to return on a two-year contract, per Wojnarowski. The financial terms of the deal have yet to be reported.
Jackson carved out minutes on Detroit during last year's lottery-bound season. The reserve point guard, 23, had a career-best NBA season during his first year with Detroit. In 40 games, he averaged 9.8 PPG, 2.2 RPG, and 0.9 APG across 18.5 MPG. Jackson sported a shooting line of .457/.407/.813.
Selected with the No. 31 pick in the 2017 draft out of Duke, Jackson missed the entire 2017/18 NBA season following two foot surgeries. He spent his first NBA two healthy seasons, 2018/19 and 2019/20, in New Orleans.
After the Pelicans opted not to issue Jackson a qualifying offer in 2020, Jackson became an unrestricted free agent. Following a dalliance with the Thunder, Jackson then joined the Pistons on a two-way contract for the 2020/21 season.