AUGUST 6: Curry's extension is now official, according to an announcement from the Warriors.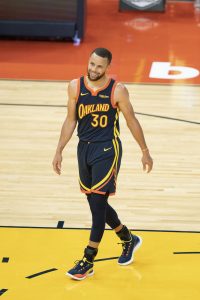 "We're thrilled to have Stephen in the fold for the next five years, with the vision of him playing his entire career with our franchise," Warriors president of basketball operations Bob Myers said in a statement. "He epitomizes everything that you'd want in the leader of your basketball team with incredible character, humility, community-minded spirit and a team-oriented approach. On the court, he's a generational player who has changed the game and won consistently at the highest level. We're blessed and fortunate to have him on our team, and are thankful to be part of an organization, led by Joe Lacob and Peter Guber, that is committed to winning."
---
AUGUST 3: The Warriors and Curry are in agreement on the new four-year, $215MM extension that will go into effect beginning in 2022/23, agent Jeff Austin tells ESPN's Adrian Wojnarowski (Twitter link). The star guard will become the first player in NBA history to sign two separate contracts worth more than $200MM, Woj notes.
---
AUGUST 2: Stephen Curry is expected to sign a $215MM extension that will keep him with the Warriors for four more seasons beyond 2021/22, according to Marc Stein of Substack.
Curry, 33, has been a cornerstone of the organization since being drafted in 2009. He won two MVP awards and led Golden State to five straight NBA Finals and three championships.
Returning from a hand injury that caused him to miss most of the 2019/20 season, Curry turned in another spectacular campaign, leading the NBA in scoring at 32.0 points per game while shooting 48.2% from the field and 42.1% from three-point range. It was the second scoring crown of his career.
Curry's current deal runs through the end of next season, so the extension will keep him under contract through 2025/26. The Warriors will have their core in place for next few years, with Klay Thompson signed through 2023/24 and Draymond Green with two more years on his contract, plus an option for the 2023/24 season.
Curry will earn $45,780,966 in 2021/22 before his extension takes effect the following year. He's already making more than the default maximum for a player with his years of experience, but a player's individual maximum is always at least 5% of his previous salary. As such, he'll get a 5% raise to $48.07MM for '22/23, with 8% raises in the following seasons, all the way up to a staggering $59.6MM in '25/26.