The NBA's free agent period will tip off on Monday evening at 5:00 pm central time, with deals permitted to be officially consummated as of Friday at 11:01 am CT.
Listed below are our top 50 free agents for the 2021/22 NBA season. The players on this list are on track to become free agents tonight.

Our rankings take into account both a player's short-term and long-term value. If we were to consider solely a player's worth for the 2021/22 season, veterans like Danny Green and P.J. Tucker would likely place higher, while younger free agents with upside, such as Talen Horton-Tucker or Josh Hart, might be ranked a little lower.
In addition to the players listed below, there are plenty of other notable free agents available this summer. You can check out our breakdowns of free agents by position/type and by team for the full picture.
Here are our top 50 free agents of 2021:
---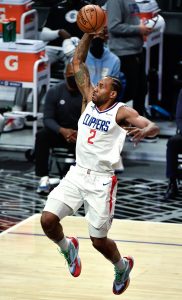 1. Kawhi Leonard, F, Clippers
Leonard's free agency is reminiscent of Kevin Durant hitting the market in 2019 after suffering a torn Achilles. An injured Durant earned a four-year, maximum-salary deal two years ago, and Leonard could do the same this offseason, despite an expectation that he'll miss much of next season while he recovers from ACL surgery. A reunion with the Clippers appears likely for Kawhi, who chose Los Angeles in 2019 despite having just won a title in Toronto.
2. John Collins, F, Hawks (RFA)
Collins bet on himself when he turned down Atlanta's reported extension offer of $90MM+ over four years last offseason. He should do better than that as a restricted free agent, and he might not even have to go shopping for an offer sheet — recent reports have indicated rival suitors aren't optimistic about their odds of prying him away from the Hawks.
3. Chris Paul, G, Suns
Two years ago, suggesting that Paul might turn down the $44MM+ option on his contract for 2021/22 would've gotten you laughed out of the room. But after earning All-NBA Second Team honors and leading Phoenix to its first NBA Finals in nearly three decades, Paul is poised for one last big payday after opting out of his previous deal. Rumors are circulating that he and the Suns will work out a new three-year contract worth at least $90MM.
4. Kyle Lowry, G, Raptors
Lowry isn't in the conversation alongside Paul as one of the all-time best point guards, but there are plenty of similarities between the two veterans, who both have a major impact on winning that goes beyond the box score. Count the Heat, Mavericks, and Pelicans among the many teams that recognize Lowry's value — they all reportedly made him their top free agent target, with Miami currently considered the frontrunner to land him.
5. Mike Conley, G, Jazz
There's no shortage of All-Star veteran point guards on this year's free agent market, and you could make a case that Conley is a safer long-term bet than Paul or Lowry, given their respective ages. It sounds like the Jazz are prepared to make that bet on Conley to the tune of a three-year offer worth upwards of $25MM annually.
6. Jarrett Allen, C, Cavaliers (RFA)
The Cavaliers surrendered a first-round pick for Allen earlier this year and are unlikely to let him get away, even after using the No. 3 overall pick to draft Evan Mobley, whose best long-term fit may be at center. Allen appears to be in line for a long-term deal in the range of at least $15-20MM per year, and that number could creep even higher if a suitor with cap space emerges to put some pressure on the Cavs.
7. Lonzo Ball, G, Pelicans (RFA)
Although Ball has taken positive steps forward – shooting a career-best 37.8% on three-pointers in 2020/21 – and has earned praise from star teammates Zion Williamson and Brandon Ingram, the Pelicans seem lukewarm on the idea of bringing him back, having been linked to a handful of other free agent point guards in recent weeks. If New Orleans misses out on its top targets, perhaps its relationship with Ball will continue. Otherwise, the Bulls look like the top suitor to watch.
8. DeMar DeRozan, G/F, Spurs
DeRozan's lack of a three-point shot (he has made 35 in the last three seasons) is an oddity for a wing in the modern NBA, but his mid-range game is deadly and he has become a legitimately dangerous play-maker, averaging a career-best 6.9 assists per game in 2020/21. DeRozan probably won't make $27.5MM per year on his next deal like he did on his last one, but he's one of the most talented offensive players available this summer and shouldn't be overlooked.
9. Norman Powell, G, Trail Blazers
Powell picked a good time to have a career year, racking up 18.6 PPG on .477/.411/.871 shooting in 69 games for Toronto and Portland. He's a versatile contributor on both offense – where he can comfortably score at the rim or knock down a corner three – and on defense, where he's capable of guarding multiple positions. He's a lock to get a raise on last year's $10.9MM salary.
10. Dennis Schröder, G, Lakers
Schröder reportedly turned down a four-year extension offer worth more than $80MM during the season, perhaps believing that he could squeeze the Lakers for a more lucrative deal in the offseason. Now that Los Angeles has agreed to trade for Russell Westbrook though, a reunion with Schröder seems like a long shot, meaning he may have to seek out a team with cap space or try to figure out a sign-and-trade deal that gets him in the ballpark of his asking price.
11. Spencer Dinwiddie, G, Nets
Dinwiddie missed nearly the entire 2020/21 season due to a partial ACL tear, but has apparently been generating plenty of interest leading up to free agency, having been linked to the Wizards, Pelicans, Heat, and Knicks, among several other teams. I initially projected Dinwiddie's contract to be a step down from the ones signed by Ball and Schröder, but now I'm not so sure.
12. Duncan Robinson, F, Heat (RFA)
A career 42.3% shooter from three-point range, Robinson will hit the market a year after sharpshooters Joe Harris and Davis Bertans got long-term deals worth $16-18MM per year. There's no reason for Robinson not to pursue a similar payday with the Heat, who should make a strong effort to keep him.