AUGUST 5: The team has officially signed McLemore, according to a team press release. It's a one-year, minimum-salary deal.
---
AUGUST 2: The Trail Blazers will sign free agent shooting guard Ben McLemore, his agent Rich Paul has informed Michael Scotto of HoopsHype (via Twitter).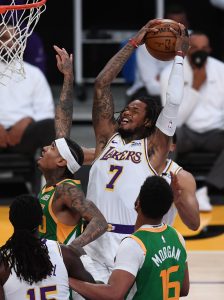 The athletic swingman flashed significant promise during his first few seasons with the Kings, who selected him with the seventh pick in the 2013 draft out of Kansas. He next proved himself to be a valuable role player while with the Grizzlies, and then suited up for an encore 2018/19 Sacramento season.
Armed with quickness and a reliable three-point shot, McLemore served as a helpful wing contributor on the Rockets' most recent playoff team, operating as a role player to support All-Star guards James Harden and Russell Westbrook, during the 2019/20 season.
After the Rockets began a midseason 2020/21 fire sale, they sent McLemore to the Lakers. McLemore averaged 8.0 PPG and 1.6 RPG in 21 contests for Los Angeles, connecting on 36.8% of his 5.4 three-point attempts a night. He should prove a valuable floor-spacing role player on the perimeter for Portland.
Photo courtesy of USA Today Sports Images.