1:08pm: The Hawks have officially announced Capela's extension, issuing a press release to confirm the move.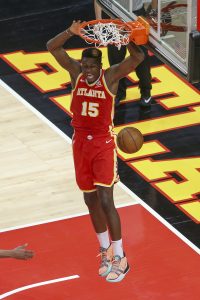 "Clint is one of the premier defensive and rebounding big men in the league. His presence in the paint and voice on defense had a tremendous impact on our success last season," Hawks president of basketball operations Travis Schlenk said in a statement. "He is a great teammate who leads by example and we are excited to have him as a part of our team long-term."
---
11:55am: Capela will make about $20.6MM in 2023/24 and $22.3MM in '24/25 on his new extension, tweets Marks. That works out to a base value of $42.9MM over two years, with another $4MM in total incentives, so the deal could max out at $46.9MM, Michael Scotto of HoopsHype tweets.
---
10:52am: The Hawks and center Clint Capela have reached an agreement on a contract extension that will add two years and $46MM to his current deal, reports ESPN's Adrian Wojnarowski (via Twitter).
Capela remains under contract for two years entering the 2021/22 season, so his new deal will go into effect beginning in '23/24 and will keep him under team control for four years in total.
Capela, 27, was acquired from the Rockets by the Hawks at the 2020 trade deadline, but was unable to play at all for Atlanta that season due to a foot injury. He proved his value to the team in 2020/21 though, averaging 15.2 PPG and an NBA-leading 14.3 RPG to go along with 2.0 BPG and a .594 FG% in 63 games (30.1 MPG).
The anchor of the Hawks' defense, Capela finished sixth in Defensive Player of the Year voting and helped lead the team to a spot in the Eastern Conference Finals with playoff series wins over the Knicks and Sixers.
As Bobby Marks of ESPN observes (via Twitter), Capela is earning base salaries of $17,103,448 and $18,206,897 in the final two years of his current deal. Since he's eligible to earn up to 120% of his 2022/23 salary in the first year of his extension, the base salaries of his new deal would be $21.85MM and $23.6MM (an 8% raise on year one) if Atlanta offered the maximum possible amount.
However, Chris Kirschner of The Athletic suggests (via Twitter) that the base value of the two-year extension is closer to $42MM, which indicates those numbers will come in slightly lower.
Capela's contract also features $2MM in annual incentives, $1.5MM of which are currently considered "likely to be earned," since he received them in 2020/21. He got a $1MM bonus for making the Conference Finals and $500K for a defensive rebounding rate above 30%, but missed out on a $500K bonus for shooting below 65% on free throws. Those annual incentives will be included in Capela's extension as well, potentially boosting the total value of the deal by up to $4MM.
Capela will be the second Hawks player to sign an extension this summer, joining Trae Young, who inked a maximum-salary rookie scale extension at the start of free agency. Kevin Huerter remains eligible for a rookie scale extension up until October 18.