The Rockets have brought back free agent small forward Tyler Bey, signing him to a two-way contract, per a team press release revealing the club's full training camp lineup.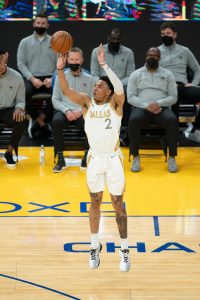 The 6'7″ swingman out of Colorado will join Anthony Lamb as the club's second two-way player. It will be Bey's second straight season in such a capacity.
Bey was selected by the Sixers with the No. 36 pick in the 2020 draft on behalf of Dallas. After the Mavericks decided to not partake in the NBAGL Orlando "bubble" restart for the 2020/21 season, Bey joined the Long Island Nets for a single game, before moving to the Salt Lake City Stars. Overall, he averaged 15.1 PPG, 9.2 RPG, and 0.8 SPG on .493/.325/.771 shooting, across 13 games.
In 18 appearances with the Mavericks during the 2020/21 season, Bey averaged a modest 3.9 MPG. He most recently suited up for the Bulls' 2021 Summer League club, then signed a non-guaranteed contract with Houston. The Rockets waived him last week, but brought him back into the fold after waiving two-way player Matthew Hurt.
Bey racked up significant accolades in college. He was named to the All-Pac-12 First Team in 2019 and the All-Pac-12 Second Team in 2020. He also was honored as the Pac-12 Defensive Player of the Year in 2020.