Hoops Rumors is breaking down the 2021 offseason for all 30 NBA teams, revisiting the summer's free agent signings, trades, draft picks, departures, and more. We'll evaluate each team's offseason moves and look ahead to what the 2021/22 season holds for all 30 franchises. Today, we're focusing on the Orlando Magic.
---
Free agent signings:
Note: Exhibit 9 and 10 deals aren't included here.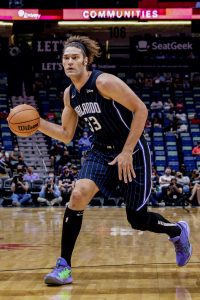 Trades:
Acquired the Pistons' 2026 second-round pick and cash from the Clippers in exchange for the draft rights to Jason Preston (No. 33 pick).
Draft picks:
1-5: Jalen Suggs

Signed to rookie scale contract (four years, $29,955,705).

1-8: Franz Wagner

Signed to rookie scale contract (four years, $22,781,932).
Contract extensions:
Departing players:
Other offseason news:
Hired Jamahl Mosley as head coach to replace Steve Clifford.
Hired Nate Tibbetts, Jesse Mermuys, Dale Osbourne, Bret Brielmaier, and Lionel Chalmers as assistant coaches; lost assistants Tyrone Corbin, Pat Delany, Steve Hetzel, and Michael Batiste.
Jonathan Isaac and Markelle Fultz continue to recover from ACL tears and are sidelined to start the season.
Michael Carter-Williams is recovering from ankle surgery and is sidelined to start the season.
Chuma Okeke is dealing with a bone bruise in his hip and is sidelined to start the season.
Salary cap situation:
Remained over the cap and below the tax line.
Carrying approximately $113.7MM in salary.
$4,536,000 of non-taxpayer mid-level exception still available ($5MM used on Robin Lopez).
Full bi-annual exception ($3,732,000) still available.
Three traded player exception available, including one worth $17.2MM.
---
The Magic's offseason:
A whirlwind 2021 trade deadline paved the way for the Magic to have a relatively quiet offseason. Back in March, Orlando decided to launch a full-scale rebuild and finalized three separate trades that sent Nikola Vucevic to Chicago, Aaron Gordon to Denver, and Evan Fournier to Boston.
That type of roster overhaul is more common during the summer than midway through the season, but the Magic had been hit hard by injuries and had lost 27 of 35 games leading up to the deadline after winning six of eight to open the year. They weren't going to make the playoffs and they were in a position to be one of the league's few major in-season sellers, so they struck early.
That decisiveness allowed the Magic to perhaps extract more for Vucevic than they would've if they'd taken a more patient approach. When the Bulls sent their top-four protected 2021 first-rounder to Orlando in the package for the standout center, they were presumably counting on grabbing one of the last couple playoff spots in the East and sacrificing a pick in the 15-16 range. Instead, Chicago struggled down the stretch and had to convey the No. 8 overall pick to the Magic.

The Magic's draft luck continued when, despite having their own pick land at No. 5 in the lottery, they were able to land one of the consensus top-four prospects in the 2021 class. Toronto surprised observers by snagging Scottie Barnes at No. 4, allowing Jalen Suggs to slip to Orlando.
Whether Suggs will turn out to be a better pro than Barnes remains to be seen, but the former Gonzaga guard was the higher-ranked player on most experts' – and, by all accounts, most teams' – draft boards. The Magic likely could've extracted a significant price from a club interested in trading up for Suggs, so staying put and selecting him – even with point guards Markelle Fultz and Cole Anthony already locked up for the next three years – is a good indication they're high on his potential.
Orlando used its second lottery pick (courtesy of the Bulls) to select Michigan's Franz Wagner, a talented young forward who looks capable of becoming an impact player on both sides of the ball. The idea of pairing Wagner with Jonathan Isaac – once Isaac gets healthy – and letting the two young forwards loose on the defensive end is a tantalizing one.
While adding Suggs and Wagner were the Magic's major moves of the summer, the team also decided to invest long-term in Wendell Carter after acquiring the former Bulls big man in the Vucevic trade. The price Orlando paid – $50MM over four years – suggests the team is confident the former Duke standout can continue to improve after putting up pretty similar numbers in each of his first three seasons.
Even if Carter plateaus, the contract will never be an albatross. Its descending structure means it will be worth just $10.85MM by its final year in 2025/26, making it a good trade chip if WCJ is no longer in Orlando's plans by then.
The Magic were relatively quiet on the trade market and made just a couple free agent additions, bringing in steady veterans Robin Lopez and E'Twaun Moore on inexpensive one-year contracts. Lopez, in particular, is a heady player who will be able to impart plenty of knowledge on young big men Carter and Mohamed Bamba over the course of the season.
Orlando's offseason was ultimately defined by the rookies it added, both on and off the court — besides drafting Suggs and Wagner, the team hired first-time head coach Jamahl Mosley to replace Steve Clifford. Mosley gained a strong reputation for player development during his time in Dallas under Rick Carlisle and will be tasked with guiding a young Magic team through the toughest stage of its rebuild. The losses will come early and often for Mosley, but if guys like Suggs, Wagner, Fultz, and Isaac are improving under his tutelage, he'll be doing his job.
---
The Magic's season:
The Eastern Conference will be competitive this season, with 12 or 13 teams eyeing a playoff berth or at least a play-in spot. The odds of the Magic joining that group are slim — they and the Pistons are good bets to occupy the 14th and 15th spots in the conference, in some order.
Still, there are some intriguing building blocks here, especially once the team gets healthier. Suggs, Wagner, Carter, Fultz, Isaac, Bamba, Anthony, Chuma Okeke, and R.J. Hampton aren't all future stars, but there's plenty of untapped upside in that group, and the Magic have the ability to add a few more assets to their collection by trading Terrence Ross at some point in the coming months.
There's a long way to go before the Magic will be talking about contending again, but the rebuild has taken a good first step or two this year.
---
Salary information from Basketball Insiders and Spotrac was used in the creation of this post.