The Suns and center Deandre Ayton have ended their contract extension negotiations, reports ESPN's Adrian Wojnarowski (Twitter link).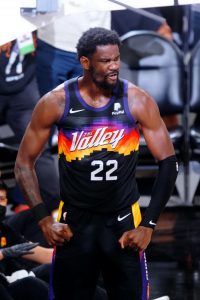 As Wojnarowski explains, Ayton expected a maximum-salary deal and team owner Robert Sarver has remained unwilling to offer one, so the two sides won't reach an agreement by today's rookie scale extension deadline. While Phoenix was able to work out an extension with Mikal Bridges, the team's former No. 1 pick is now on track to become a restricted free agent in 2022.
Wojnarowski first reported nearly two weeks ago that discussions between the two sides had reached an impasse due to their difference in opinion on Ayton's value. The 23-year-old's representatives felt their client deserved a commitment like the ones Luka Doncic, Trae Young, and Shai Gilgeous-Alexander received from their respective teams this offseason, while the Suns' ownership group felt Ayton wasn't at the level of those young stars.
Ayton's 14.4 PPG in 2020/21 was the lowest mark of his career, but he averaged double-digit rebounds (10.5 RPG) for a third straight season, made a career-best 62.6% of his shots from the field, improved as a defender, and played a key role in the Suns' NBA Finals run. His modest scoring numbers were primarily a result of his willingness to accept a reduced role on offense following the arrival of Chris Paul to Phoenix. Ayton had averaged 18.2 PPG in '19/20.
Since Ayton will be a restricted free agent in a year, Phoenix won't be at any risk of losing him next summer. However, if these unsuccessful negotiations leave a bad taste in his mouth, Ayton could consider alternative options in free agency besides just reentering long-term contract talks with the Suns.
Accepting his qualifying offer would be one option for Ayton, though that's not a path many high-level RFAs seriously consider. Signing the qualifying offer would be the equivalent of accepting a one-year contract and would put Ayton on track for unrestricted free agency in 2023. While it's an unlikely scenario, it's worth noting that Ayton's qualifying offer will be worth $16.4MM, which I believe makes it the largest QO in NBA history to date.
Ayton would also have the option of going out and seeking an offer sheet from another team. The Suns would have the ability to match any offer sheet Ayton signs, but he could negotiate unfriendly terms, including perhaps an early opt-out and a 15% trade kicker.
Of course, it's possible that when the Suns and Ayton return to the negotiating table next offseason, things go more smoothly and the two sides are able to work something out, like the Hawks did with John Collins this summer. For now though, it looks like we can safely pencil in Ayton as one of the top free agents in next year's class.