The Designated Veteran extension, as we explain in our glossary entry on the subject, is a relatively new addition to the NBA's Collective Bargaining Agreement. It allows players with seven, eight, or nine years of NBA service, who would normally be eligible for a maximum starting salary of 30% of the cap, to qualify for a "super-max" contract that starts at 35% of the cap, a level normally reserved players with 10+ years of experience.
A player who has seven or eight years of NBA service with one or two years left on his contract becomes eligible for a Designated Veteran extension if he meets the required performance criteria and hasn't been traded since his first four years in the league. A Designated Veteran contract can also be signed by a player who is technically a free agent if he has eight or nine years of service and meets the required criteria.
The performance criteria is as follows (only one of the following must be true):
The player was named to an All-NBA team and/or was named the NBA Defensive Player of the Year in the most recent season, or in two of the last three seasons.
The player was named the NBA MVP in any of the three most recent seasons.
As Bobby Marks of ESPN writes, Nuggets center Nikola Jokic met the super-max performance criteria this past season when he won his first MVP award. However, since he still has only six years of NBA experience under his belt, he can't actually sign a super-max contract with Denver until the 2022 offseason. At that point, he could tack on five years and a projected $253MM+ to the one year left on his current deal.
For the time being, Jokic is the best bet to receive a Designated Veteran extension a year from now, but there are other players who could join him. Here's a look at some super-max candidates to watch during the 2021/22 season:
---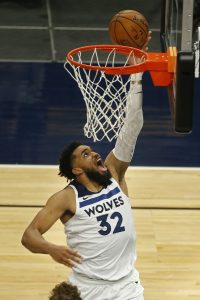 Towns has one All-NBA season under his belt already, having made the Third Team in 2018. Towns played in all 82 regular season games that year and Minnesota made the postseason for the only time during his six-year career.
Towns might not need the Wolves to get back to the postseason in order to earn a spot on the 2021/22 All-NBA team, but he'll need to stay healthier than he has the last couple years — he has appeared in just 85 games since the start of the 2019/20 campaign, missing 51. If he plays 70+ games this season and puts up the same sort of numbers he has in the three years since his last All-NBA season (25.0 PPG, 11.5 RPG, 3.9 APG, and 1.4 BPG on .506/.399/.834 shooting), he'll have a great case.
Should he make an All-NBA team in 2022, Towns would be eligible for a four-year super-max extension that goes into effect in 2024/25. We're too far out to accurately project the value of such a deal, but if the salary cap increases to, say, $130MM by that point, a four-year super-max extension for Towns would be worth nearly $204MM.
---
Booker's current contract with the Suns looks essentially identical to Towns' deal with the Timberwolves, since both players signed five-year, maximum-salary contracts at the same time. As such, Booker is in a similar situation — if he makes an All-NBA team in 2022, he could sign a four-year, super-max extension that would begin in 2024/25 and could be worth in excess of $200MM.
Unlike Towns, Booker hasn't been an All-NBA player before, but he has a realistic shot. When the Suns posted the NBA's best record in 2020/21, it was Chris Paul – rather than Booker – who earned All-NBA Second Team honors for both his performance and the impact his arrival had on a young Phoenix team.
But if the Suns are in contention for a top seed in the West again this season, it could be Booker's turn to receive serious All-NBA consideration. He's a safe bet to lead the team in scoring and he's entering his age-25 season, whereas Paul – at age 36 – may see his numbers start to fall off a little going forward.
If Booker does become eligible for a super-max, it will be interesting to see whether the Suns are prepared to offer it to him, given the recent reports on team ownership's reluctance to commit max money to Deandre Ayton.
---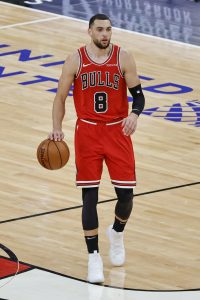 Unlike Towns or Booker, LaVine will be a free agent during the 2022 offseason. He was an extension candidate this offeason, but once the Bulls used their potential cap room on roster upgrades rather than a renegotiation of LaVine's 2021/22 salary, the odds of him signing a long-term extension plummeted.
Since LaVine is earning a relatively modest $19.5MM salary in 2021/22, his max extension without a renegotiation would only be worth in the neighborhood of $106MM over four years — and a renegotiation is only possible with cap room.
That means LaVine will almost certainly reach free agency in 2022. That takes an extension off the table, he could still qualify for the super-max as a free agent if he makes an All-NBA team this season.
Earning an All-NBA spot may be a longer shot for LaVine than for Towns or Booker. Not many centers will put up better numbers than Towns, and Booker's role as the top scorer for a potential title contender will automatically put him in the conversation. LaVine is coming off a monster year, in which he established a new career high in PPG (27.4) and earned his first All-Star berth, but he has a reputation as a subpar defender and the Bulls haven't made the playoffs during his four years with the franchise.
If LaVine maintains his impressive offensive numbers and shows improvements on defense while the new-look Bulls force their way into the playoff mix, an All-NBA nod becomes a more realistic possibility. In that scenario, LaVine would be eligible for a five-year super-max contract worth a projected $241.6MM. Whether Chicago would be comfortable putting that type of offer on the table is another story altogether.
---
The rookie scale extension recipients
Trae Young (Hawks), Shai Gilgeous-Alexander (Thunder), and Michael Porter Jr. (Nuggets) all signed five-year, maximum-salary rookie scale extensions this offseason that project to start at 25% of the 2022/23 cap, for a five-year value of $172.5MM.
However, all three players also received Rose Rule language in their deals. This is another form of the super-max — unlike the Designated Veteran contracts, which start at 35% of the cap instead of 30%, a player who meets the Rose Rule criteria gets a starting salary worth 30% of the cap rather than 25%.
The performance criteria for a Rose Rule salary increase are essentially the exact same as for a Designated Veteran bump, but must be achieved by the end of the player's four-year rookie contract. That means Young, Gilgeous-Alexander, and Porter would have to make the All-NBA team in 2022 in order to increase the value of their respective extensions to $207MM over five years — an All-NBA berth in 2023 or 2024 would be too late.
Of the three players, Young might be the best bet to make an All-NBA team this season. Like Booker, he's the go-to offensive option on a team coming off a deep playoff run. He should rank among the NBA's leaders in both points and assists. If he improves upon last season's .438/.343/.886 shooting numbers and Atlanta has another strong season, he'll have a solid case.
Mavericks guard Luka Doncic, the other young star to get a maximum-salary rookie scale extension this summer, already qualified for the bump to 30% of the cap by making the All-NBA team in his second and third NBA seasons. His five-year deal will be worth a projected $207MM no matter how he performs in 2021/22.
---
The rest
While there are other veteran players who could technically qualify for the super-max this season, none are particularly compelling candidates. Mavericks big man Kristaps Porzingis and Pacers center Myles Turner are perhaps the most intriguing, especially since Turner could be a legitimate Defensive Player of the Year contender. But I have a hard time imagining either player receiving a super-max offer even in the unlikely event that they qualify for one.
Among players on rookie scale contracts, Suns center Deandre Ayton is the other candidate to monitor. Ayton is reportedly seeking Rose Rule language in a maximum-salary extension with Phoenix, but the two sides are at an impasse in their negotiations.
I'd be a little surprised if Ayton becomes an All-NBA player this season, but there are so few star centers around the league that it's not out of the question, especially if he takes on a larger offensive role going forward. If Ayton and the Suns don't agree to an extension this month and he earns an All-NBA nod in 2022, he'd be eligible for a 30% max (five years, $207MM) with Phoenix as a restricted free agent next summer.