Hoops Rumors is breaking down the 2021 offseason for all 30 NBA teams, revisiting the summer's free agent signings, trades, draft picks, departures, and more. We'll evaluate each team's offseason moves and look ahead to what the 2021/22 season holds for all 30 franchises. Today, we're focusing on the Toronto Raptors.
---
Free agent signings:
Note: Exhibit 9 and 10 deals aren't included here.
Trades:
Draft picks:
1-4: Scottie Barnes

Signed to rookie scale contract (four years, $33,064,660).

2-46: Dalano Banton

Signed to two-year, minimum-salary contract. Second year partially guaranteed. Signed using minimum salary exception.

2-47: David Johnson

Signed to two-way contract.
Contract extensions:
Departing players:
Other offseason news:
Signed president of basketball operations Masai Ujiri to contract extension and promoted him to vice chairman.
Hired Nate Bjorkgren, Earl Watson, and Trevor Gleeson as assistant coaches; lost assistant coaches Sergio Scariolo and Jama Mahlalela.
Being investigated by NBA for possible gun-jumping violation in Kyle Lowry sign-and-trade.
Received clearance to resume playing home games in Toronto after spending 2020/21 season in Tampa.
Salary cap situation:
Remained over the cap and below the tax line.
Carrying approximately $136.3MM in salary.
Hard-capped at $143MM.
$3,186,000 of non-taxpayer mid-level exception still available ($6.35MM used on Khem Birch).
Full bi-annual exception ($3,732,000) still available.
Three traded player exceptions available, including one worth $4.8MM.
---
The Raptors' offseason:
Kawhi Leonard left Toronto during the 2019 offseason and both Marc Gasol and Serge Ibaka departed a year later, but it wasn't until 2021 that it felt like the Raptors began a new era in earnest. Having gone 53-19 in 2019/20, a year after winning its title, the team fell off a cliff in a '20/21 season spent far from home.
The Raptors' slide down the standings can be blamed on a handful of factors that go beyond having to play their home games in Tampa — injury issues and a midseason COVID-19 outbreak didn't help matters, and the club's inability to adequately replace Gasol's and Ibaka's production at center played a part. Regardless of the reason for it, Toronto's '20/21 collapse opened the door for president of basketball operations Masai Ujiri to retool the roster.
That retooling process began with a 10-28 finish to the season, which bumped the Raptors to seventh place in the NBA's lottery standings. Some good fortune on lottery night resulted in the team climbing a few spots higher and securing the No. 4 overall pick. While that selection didn't give the Raps an opportunity to draft Cade Cunningham, Jalen Green, or Evan Mobley, it put them in a great position to nab a potential All-Star from what was considered a four-player top tier.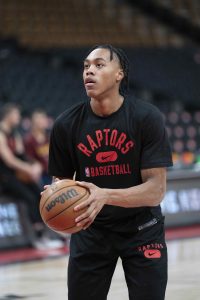 However, the Raptors disagreed with the conventional wisdom that slotted Gonzaga guard Jalen Suggs alongside those top three prospects. Ujiri and company passed on Suggs in favor of Scottie Barnes, a promising young forward who was viewed as a talented, versatile defender whose offensive game remained quite raw.
It might take years to determine with certainty whether the Raptors made the right call by taking Barnes over Suggs, but fans disappointed by the selection on July 29 have to like the early returns — the 20-year-old Barnes has averaged 16.6 PPG and 8.7 RPG on 52.4% shooting in his first nine NBA games, and his defense has been as good as advertised, if not better.
As one potential cornerstone arrived in Toronto, another departed. After earning six All-Star nods and a title during his nine years with the Raptors, Kyle Lowry decided to move on and maximize his remaining years by joining a team closer to title contention. Toronto accommodated a sign-and-trade deal that sent Lowry to Miami.
If the Heat hadn't been confident in the Raptors' willingness to play ball on a sign-and-trade, they could've declined Goran Dragic's team option and made some other small moves that allowed them to open up the cap space necessary to sign Lowry outright. In that scenario, the Raptors would've been able to create some cap room of their own rather than taking on Dragic's expiring $19MM+ contract in the Lowry sign-and-trade.
Operating over the cap allowed Toronto to acquire Precious Achiuwa along with Dragic in exchange for Lowry, then to use part of the mid-level exception to re-sign Khem Birch. If the Raptors had instead gone under the cap and simply let Lowry walk, they could have made a competitive offer for a big man like Richaun Holmes (they could've outbid the Kings), then tried to re-sign Birch using the room exception (their offer would've been limited to about two years and $10MM, rather than $20MM over three years).
Of course, there's no guarantee that Holmes would've wanted to come to Toronto or that Birch would've accepted a little less to remain with the Raptors, but it's an intriguing "what if." The Raps made a big bet on Achiuwa, and perhaps are counting on Dragic to maintain enough value to make him a useful trade chip rather than just a buyout candidate.
Outside of the Lowry sign-and-trade and the Barnes pick, the Raptors' most notable transaction was re-signing restricted free agent Gary Trent Jr. to a three-year, $51MM+ contract that includes a third-year player option.
The terms of that deal were a little surprising. Of the reliable rotation players available in free agency this offseason, few – if any – were younger than Trent (22), so Toronto's decision to negotiate a contract that allows him to reach unrestricted free agency at age 24 was curious. It will be interesting to see whether or not that deal ultimately works out better for the Raptors than a longer-term commitment would've.
The Raptors filled out their roster with minimum-salary players and second-round picks. Among those, the most noteworthy additions were Sviatoslav Mykhailiuk, a solid sharpshooter who had a down year but had still made 36.2% of his career 3-pointers entering this season, and Dalano Banton, a second-round pick out of Nebraska whom ESPN's Jonathan Givony described as "one of the more unique players in college basketball" due to his combination of size (6'9″) and play-making abilities.
Finally, you could make a case that the biggest news of the Raptors' offseason wasn't related to player movement at all — it was the extension and promotion the organization awarded Ujiri. The cost was significant – Ujiri will reportedly earn a $15MM salary and can receive incentives based on the franchise's value continuing to increase – but it looks like a worthwhile investment for one of the most talented executives in the sport.
---
The Raptors' season:
Even with Leonard, Lowry, Gasol, and Ibaka gone, the Raptors still have a couple key pieces from their 2019 title team still on the roster, in Fred VanVleet and Pascal Siakam. OG Anunoby, who didn't contribute to that championship run for health reasons, has taken a huge step forward over the last couple years, Trent is a reliable rotation player, and Barnes looks ready to contribute immediately.
If the Raptors can get decent production out of some combination of Achiuwa, Birch, and Boucher up front, and a few of the reserves step up and provide consistent minutes, there's enough talent here to make Toronto a playoff team.
Still, this roster as constructed doesn't look like a great bet to make a run in the postseason, so the priorities this season should be developing Barnes and assessing how the club's top three forwards (Siakam, Anunoby, and Barnes) fit together. While earning at least a play-in spot is certainly a realistic and achievable goal, the Raptors are probably still at least a year or two away from making any real noise in the East.
---
Salary information from Basketball Insiders and Spotrac was used in the creation of this post.