Cavaliers guard Collin Sexton will miss the rest of the season after having surgery to repair the torn meniscus in his left knee, according to Shams Charania of The Athletic (Twitter link).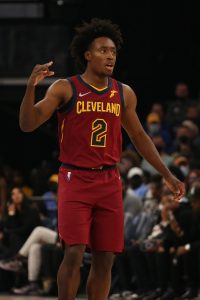 The team first announced Sexton's injury on November 8, but there was no recovery timeline mentioned at the time. Now we know he'll miss the remainder of the season.
It's a devastating blow for the fourth-year guard, who's eligible to become a restricted free agent at the end of the season. The Cavs were reportedly interested in a long-term contract with Sexton, but missing the rest of the season will hurt his leverage in negotiations.
Sexton had been quite healthy his first three seasons; he played in all 82 games as a rookie, all 65 of the team's games in his second season, and 60 out of 72 games last season.
The eighth overall pick in 2018, Sexton was the Cavaliers' leading scorer in each of the last two seasons, having put up a career-best 24.3 PPG in 60 games in 2020/21 with a solid .475/.371/.815 shooting line. He was off to a slower start this season, with his shooting line dipping to .453/.244/.744, but his 16.0 PPG is still the second-highest mark on the team, only trailing the 17.8 PPG of point guard Darius Garland.
Obviously it's bad news for the Cavs as well, who are very undermanned at the moment. Rookie Evan Mobley, who looked like a strong candidate for Rookie of the Year, will miss the next two-to-four weeks with a right elbow sprain. Kevin Love just returned from a bout of COVID-19, while Lauri Markkanen is working his way back to shape after battling the virus. Starting center Jarrett Allen has missed the past three games as well with a non-COVID illness, so the Cavs have been without four of their five original starters the past two games.
The Cavs started the season 9-5 (7-4 with Sexton), but have lost their last three games and now sit at 9-8. Their next game is Monday, Nov. 22 against Brooklyn.
With Sexton on the shelf, Cleveland has leaned more heavily on Garland and veteran point guard Ricky Rubio, with Dylan Windler and Denzel Valentine receiving rotation minutes in recent games. Second-year wing Isaac Okoro has also seen heavy minutes since returning from injury.
As Bobby Marks of ESPN notes (Twitter link), the Cavs could eligible for a disabled player exception worth approximately $3.2MM (roughly half of Sexton's salary) if Sexton is deemed likely to be out through June 15th.
Marks also relays that the Cavs are currently $3.1MM below the luxury tax threshold and have no open roster spots. Using a disabled player exception does not free up a roster spot, and if used, it counts against the cap. So, even if they were granted a DPE, there's certainly no guarantee the Cavs would actually use it.