In the sequel to this weekend's consideration of potential Eastern Conference All-Star starters following the first results of fan voting for the 2022 NBA All-Star Game, we'll take a look today at the players who are in the mix (and deserving to be in the mix) for Western Conference All-Star starting gigs.
During the voting process, players are separated by conference. Three frontcourt players will be selected and two guards will be chosen. Fan votes are weighted as 50% of the total vote. The remaining 50% will be split evenly between players and media members. The league's head coaches will then pick the All-Star benches after starters are announced.
The All-Star Game is set for February 20 at the Cavaliers' home arena, Rocket Mortgage FieldHouse. Online fan voting began on Christmas Day 2021, and will conclude at 11:59 p.m. ET on January 22. The fan voting results so far were announced by the NBA on January 6.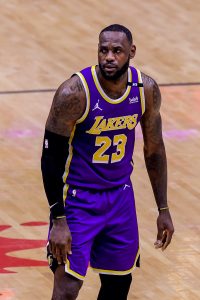 Lakers small forward LeBron James received 2,018,725 fan votes to lead all frontcourt players in the West, followed by the reigning MVP, Nuggets center Nikola Jokic, with 1,649,809 votes. Clippers small forward Paul George, out with a long-term shoulder injury, is currently in third place with 1,072,591 votes. Surprisingly, Warriors small forward Andrew Wiggins is outpacing his more decorated — and, let's face it, just plain better — All-Star teammate, power forward Draymond Green.
The 933,355 fan votes for Wiggins are significantly more than the 691,423 fan votes Green received. Wiggins has made far more of a scoring impact than Green has, to be fair, though Green's passing and versatile, league-best defense make him the more crucial contributor to the Warriors' 30-10 record.
Lakers big man Anthony Davis (592,281 votes), Timberwolves center Karl-Anthony Towns (474,794 votes), Lakers reserve forward Carmelo Anthony (319,128 votes), Jazz center Rudy Gobert (218,819 votes) and Suns center Deandre Ayton (177,115 votes) round out the top 10.
Among this top 10, only Anthony is truly unworthy of consideration, though the notion of the barely-available Davis meriting a look for his contributions as the second-best player on a .500-level club seems shaky. At present, George has played just one fewer game than Davis has, though that is subject to change. Gobert, who along with Green looks to be a favorite to win another Defensive Player of the Year award this season in one of the West's elite teams, deserves the third starting frontcourt nod over George.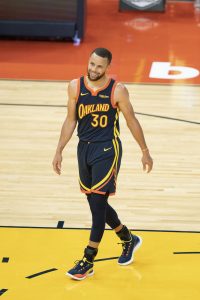 Warriors point guard Stephen Curry leads the West's guards (and also every other player in the NBA) in fan voting with 2,584,623 votes. Far behind Curry are fourth-year Mavericks point guard Luka Doncic, already a two-time All-Star, with 787,690 votes and third-year Grizzlies point guard Ja Morant with 669,033 votes. Tonight, Morant led the fourth-seeded Grizzlies to a 116-108 statement win over Curry's Warriors. The victory marked 10 straight for Memphis. The 29-14 Grizzlies occupy the West's fourth seed, far ahead of Doncic's fifth-seeded Mavericks at 22-18.
Curry's Golden State teammate Klay Thompson, who has played a grand total of two games this season, received a nonsensical 367,743 fan votes last week, the fourth-most for any West guard. Thompson far outpaced the more worthy Suns backcourt tandem of Devin Booker (338,526 votes) and Chris Paul (315,912 votes), who in turn are just ahead of Jazz guard Donovan Mitchell (217,546). Among this group, Mitchell, Paul and Booker all could make a case to start. The same cannot be said for Thompson.
As of this writing, this fan voter would start Jokic, James, and Gobert for the Western Conference's frontcourt trio, with Curry and Morant occupying the two starting guard spots.
We want to know what you think! Who deserves to be a Western Conference All-Star starter? Are there any borderline starters you think could be determined based on their play during this last month of voting? Head to the comment section below to weigh in!