6:47pm: The trade is now official, the Hawks announced in a press release. Atlanta received Knox and Charlotte' 2022 first-round pick (top-18 protected) in exchange for Reddish, Hill, Brooklyn's 2025 second-round pick, and cash.
The Knicks confirmed in their own press release that they waived Arcidiacono.
---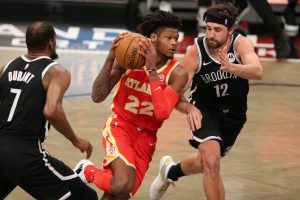 10:33am: The Hawks will send Cam Reddish to the Knicks in a multi-player trade, tweets ESPN's Adrian Wojnarowski.
New York will also receive veteran forward Solomon Hill and a second-round draft pick in 2025 that originally belonged to the Nets. Atlanta will get Kevin Knox in return, along with a protected first-round pick from the Hornets. The protections on Charlotte's pick are top-18 this year, top-16 in 2023 and top-14 in 2024 and 2025, according to Bobby Marks of ESPN (Twitter link). It will convert to second-round picks in 2026 and 2027 if not conveyed by then.
Atlanta had been searching around the league for a team willing to part with a mid-first-round pick or a young player in exchange for Reddish, Wojnarowski adds (Twitter link). The Hawks explored several potential trade packages with the Knicks before settling on the final deal, and Woj reports that they also talked recently to the Pacers and Lakers about potential trades involving Reddish.
The 10th pick in the 2019 draft, Reddish has been an explosive bench scorer and a part-time starter during his two-and-a-half seasons in Atlanta. After having much of last season wiped out by injuries, he's averaging a career-high 11.9 points per game this year while shooting 40.2% from the field and 37.9% from three-point range.
Reddish will be eligible for a rookie scale extension this summer, which is one of the reasons the Hawks, who already have several sizable contracts in place, were willing to move him. He will carry cap hits for the Knicks of $4.7MM this season and $5.95MM for 2022/23, Marks tweets.
Hill, 30, is out for the rest of the season after suffering a torn right hamstring last month. He has veto power over the trade, but plans to approve it, according to Marks. He's making $2,389,641 on a veteran-minimum contract that will expire after this season.
Knox, 22, had a bright rookie season in 2018/19, but hasn't been the same player since. He has appeared in just 13 games this season, averaging 3.6 points and 1.7 rebounds in 8.5 minutes per night. He is headed for free agency this summer, and the Hawks will have the option to make him restricted, though that seems unlikely.
The Knicks will have to release Ryan Arcidiacono early from his 10-day contract to make room on the roster for an extra player, Marks notes (Twitter link). Arcidiacono's deal had been set to expire on Saturday night.
Atlanta will have an open roster spot, along with a $1.7MM trade exception. The Hawks will also get a little bit of luxury tax relief, moving from $1.87MM to $2.36MM under the tax threshold.