2:14pm: The Jazz have officially announced House's new 10-day contract.
---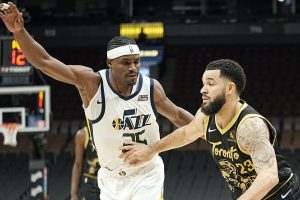 8:14am: The Jazz intend to bring back forward Danuel House on a new 10-day contract, according to Tony Jones of The Athletic (Twitter link). House's first 10-day deal with the team, completed using a hardship exception, expired on Saturday night.
House began the season with the Rockets and has signed 10-day contracts with the Knicks and Jazz since being waived by Houston.
After barely playing for New York, House saw action in three games with Utah, averaging 5.3 PPG and 2.3 RPG on .417/.444/1.000 shooting in 18.0 MPG. The 28-year-old was a rotation player for the Rockets for the last few years, but was no longer in Houston's plans as the organization pivoted toward a full-fledged rebuild.
The Jazz appear likely to re-sign House to a standard 10-day contract rather than another hardship deal. Utah still has two players – Jared Butler and Hassan Whiteside – in the health and safety protocols after Elijah Hughes exited them, per Eric Walden of The Salt Lake Tribune (Twitter link). However, the team also still has Denzel Valentine and Zylan Cheatham on active hardship contracts and wouldn't be eligible for a third hardship addition.
On top of that, the Jazz currently only have 13 players on standard contracts. Our working assumption is that they're required to add a 14th man very soon, since they dipped to 13 on January 4 and teams are only permitted to carry fewer than 14 players for up to two weeks at a time.
Given how many tweaks the league has made to its roster rules this season to account for COVID-related absences, it's possible the hardship players Utah has signed in the last two weeks counted toward the team's minimum roster count, but I don't believe that's the case.
House will earn $111,457 over the course of his new 10-day deal. Assuming it's a standard 10-day contract, it will count for $95,930 against the Jazz's cap.