12:09pm: House has officially signed his new 10-day contract with the Jazz, according to NBA.com's transactions log.
---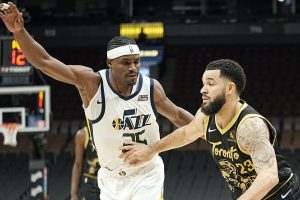 8:10am: The Jazz are re-signing forward Danuel House to a new 10-day contract, league sources tell Tony Jones of The Athletic (Twitter link). House's previous 10-day deal with the club expired on Thursday night.
House, 28, has appeared in six games so far with Utah, averaging 6.2 PPG, 2.7 RPG, and 1.7 APG in 19.8 minutes per contest. He has a shooting line of .429/.333/.636 in those six games and has played his usual solid defense on the wing.
House, who began the season with the Rockets, was waived in December by Houston and quickly caught on with the Knicks on a 10-day hardship deal. After that deal expired, he signed with the Jazz, first on a 10-day hardship contract, then on a standard 10-day pact.
A player typically isn't permitted to sign more than two 10-day contracts with the same time in a season, but hardship deals don't count toward that limit, so House is permitted to sign a third 10-day contract with the Jazz, since it's only his second standard 10-day.
According to Jones, House is expected to finalize his new deal on Friday and to be active for tonight's game in Memphis. That means his contract would run through February 6, covering the Jazz's next four games. At that point, Utah would have to either sign him for the rest of the season or let him walk, since he wouldn't be eligible for another standard 10-day deal.
The Jazz currently only have 13 players on standard, full-season contracts, so even if they were to make a rest-of-season commitment to House before the trade deadline, they'd still have an opening on their 15-man roster, giving them some roster flexibility.