The Knicks have made a change to their 15-man roster, announcing in a press release that they've re-signed guard Ryan Arcidiacono to a new 10-day contract and waived forward Solomon Hill.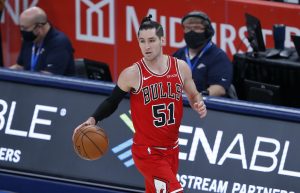 The Knicks acquired Hill and Cam Reddish in a trade with Atlanta last Thursday, terminating Arcidiacono's first 10-day contract a few days before it expired in order to create room on the roster for the incoming players.
However, Hill had been ruled out for the rest of the season due to a torn hamstring and was essentially a filler piece in last week's trade, allowing the Hawks to get off his salary and open an extra roster spot of their own.
The veteran forward was never in the Knicks' plans for this season, so the club has cut him in order to bring back Arcidiacono. Hill's guaranteed $1,669,178 cap charge will remain on the team's books after he clears waivers on Friday.
It has been an unusual month for Arcidiacono, who actually first signed a 10-day hardship deal with the Knicks on January 3. The NBA voided that contract a day later because New York no longer qualified for a hardship exception. The veteran point guard signed a standard 10-day pact on January 6, but hadn't appeared in a game for the Knicks by the time they terminated the deal a week later.
New York's decision to bring back Arcidiacono now, even after Kemba Walker returned to the lineup on Tuesday night, suggests the club wants to see more from him. When Aricidiacono first agreed to join the Knicks, Shams Charania reported that he might end up sticking around for the rest of the season — that scenario could still be in play, depending how the trade deadline plays out.
Arcidiacono, 27, went undrafted out of Villanova in 2016 and spent four seasons with the Bulls from 2017-21, averaging 4.8 points, 2.0 rebounds and 2.2 assists with a .431/.373/.807 shooting line in 207 games (17.6 MPG). He signed a training camp deal with the Celtics in September, but was waived before the start of the season and had been playing for Boston's G League affiliate in Maine.