JANUARY 27: The Lakers have officially signed Johnson, per a team press release.
---
JANUARY 26: The Lakers and forward Stanley Johnson have agreed to a two-year deal, according to Shams Charania of The Athletic (Twitter link). The second year will be a team option, per ESPN's Adrian Wojnarowski, who says (via Twitter) the contract is expected to be signed on Thursday.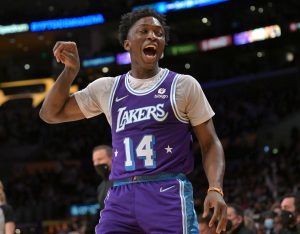 Johnson has been with Los Angeles for the last month, having initially signed a hardship 10-day contract with the team on December 24. That was followed by two standard 10-day deals, the second of which will expire on Wednesday night.
Because a team can't sign a player to more than two standard 10-day contracts in a season, the Lakers would've had to let Johnson walk if they weren't prepared to give him a rest-of-season commitment.
However, Johnson has become a key part of Los Angeles' rotation since his arrival, playing strong defense and averaging 6.4 PPG and 2.6 RPG on .516/.344/.789 shooting in 14 games (21.2 MPG). Letting him go wasn't something L.A. wanted to do, even if it would've allowed the team to keep a 15-man roster spot open for added flexibility leading up to the February 10 trade deadline.
According to Wojnarowski (via Twitter), Johnson's willingness to accept a team option for 2022/23 was a factor in the Lakers' decision to commit its 15th roster spot to him, since that option will give the club some roster flexibility in the offseason.
Prior to signing with the Lakers last month, Johnson had been playing with the team's G League affiliate, the South Bay Lakers. The 25-year-old signed a 10-day hardship deal with the Bulls earlier in December, but entered the health and safety protocols before appearing in a game with the team, then joined L.A. after that deal expired and he was cleared from the protocols. The No. 8 overall pick in the 2015 draft, Johnson has also played for the Pistons, Pelicans, and Raptors since entering the NBA.
Assuming Johnson signs his contract on Thursday and it's worth the veteran's minimum, he'll earn $888,616 for the rest of the season. The agreement will ultimately cost the Lakers more than that, since they're well above the luxury tax line.
A minimum-salary team option for Johnson for 2022/23 would be worth $2,351,521.