Following a successful back surgery on December 1, Michael Porter Jr. hasn't officially been ruled out for the season by the Nuggets, a source tells Mike Singer of The Denver Post. Both player and team have been encouraged by his recovery thus far, but there's no timeline for his return to action. Denver is expected to be cautious with Porter, Singer notes.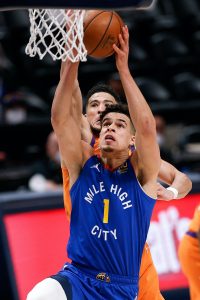 Porter has been taking set shots prior to recent games and felt immediate relief after the surgery, Singer writes. The procedure in December was the 23-year-old's third back surgery — he also went under the knife during his first and only college season, and again prior to his rookie season in 2018, which delayed his NBA debut by a year.
Those back issues caused his draft stock to drop, allowing the Nuggets to nab him with the No. 14 overall pick in '18. Denver appeared to be reaping the benefits of rolling the dice on Porter when he enjoyed a breakout season in 2020/21, averaging 19.0 PPG and 7.3 RPG on .542/.445/.791 shooting in 61 games (31.3 MPG).
However, MPJ battled back pain in his first nine games this season before the injury forced him to the sidelines — he posted just 9.9 PPG and 6.6 RPG on .359/.308/.556 shooting in 29.4 minutes per contest. The young forward's five-year, maximum-salary extension is set to go into effect in 2022/23.
In addition to Porter, there's a chance that Jamal Murray could return in advance of the postseason, Singer adds. Murray is nine months removed from a torn left ACL suffered last April.