With the NBA's February 10 trade deadline around the corner, we're taking a closer look at all 30 teams, breaking down their potential plans for the deadline and identifying their most likely trade candidates. We're focusing today on the Southeast Division.
---
Atlanta Hawks
Trade deadline goals:
Following a second-half run that took them all the way to the Eastern Conference Finals last season, the Hawks have been up and down so far in 2021/22.
Injuries and COVID-19 absences have hurt the team, but there's also a sense that Atlanta could benefit from a consolidation trade, sending out two or three players – and possibly a draft pick or two – for an impact player who would complement Trae Young for years to come.
The Hawks may have kick-started that process by sending Cam Reddish to the Knicks for a protected first-round pick. As president of basketball operations Travis Schlenk observed after making that deal, Reddish wasn't a player who would've appealed to every one of Atlanta's potential trade partners, but any team would value an extra first-rounder. That pick from Charlotte (via New York) could be useful as a sweetener in a bigger subsequent move.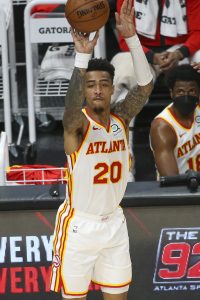 Finding a logical trade target is trickier. The Hawks have been linked to Ben Simmons and Jerami Grant, so it appears they're focused on finding a player who can capably guard bigger forwards. But acquiring a player of that caliber – especially Simmons – could mean parting with John Collins. Atlanta may prefer to wait until that offseason to make a move that significant.
Top trade candidates:
Collins has been increasingly mentioned in trade rumors in recent weeks, though reports within the last few days have suggested that the Hawks are more likely to hang onto him through the deadline than to trade him in the next few days. Even if he stays put for the time being, Collins will probably continue to be the subject of trade rumors in the 2022 offseason and beyond, since Atlanta may prefer a more versatile, switchable power forward to pair with centers Clint Capela and Onyeka Okongwu.
If the Hawks want to bring back a player earning more than the mid-level without including Collins in the deal, Danilo Gallinari ($20.5MM) and Bogdan Bogdanovic ($18MM) are the most logical trade candidates. Their production has dipped since last season and both veterans have dealt with injuries.
Delon Wright ($8.5MM) and Lou Williams ($5MM) are on expiring contracts that could be useful for salary matching, though Wright has played an important role in the Hawks' backcourt and Williams has the ability to veto a trade. Gorgui Dieng ($4MM) also has an expiring deal and has fallen out of the rotation since Christmas.
I'd count on Atlanta hanging onto Okongwu and De'Andre Hunter. Kevin Huerter could be included in certain deals, but his looming rookie scale extension will complicate the team's ability to trade him due to the poison pill provision.
---
Charlotte Hornets
Trade deadline goals:
After having Cody Zeller and Bismack Biyombo man the middle for multiple seasons, the Hornets let both players go in the 2021 offseason and made a trade to bring in Mason Plumlee.
As Charlotte's new starting center, Plumlee hasn't been bad, but the position still represents the weak link for a lineup that's pretty solid in the backcourt and on the wing. Upgrading the center spot will be the Hornets' top priority heading into the deadline.
Myles Turner has long been considered a top target for Charlotte and now might be the time for the team to make a serious play for him. The Pacers appear more willing than ever to break up their frontcourt duo of Turner and Domantas Sabonis, and Turner's foot injury may scare away other potential suitors who are more focused on this season than on 2022/23 and beyond.
If the asking price for Turner is too high or the Hornets are wary about the status of his foot, there are plenty of other options the team could pursue, including Christian Wood, Jusuf Nurkic, Richaun Holmes, Daniel Theis, and Nic Claxton.
Top trade candidates: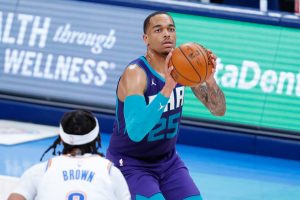 P.J. Washington's name has come up in trade rumors this season, which is interesting. He's a really solid player, but he'll be entering a contract year in 2022/23 and is playing a reduced role this season in Charlotte — after averaging 30+ minutes per game in his first two years in the NBA, Washington has averaged just 24.1 MPG in 2021/22.
If the Hornets are really willing to move Washington, that could open the door for them to make a meaningful upgrade at center. But even if they're not, they'd have some intriguing young players to put in their offers. 2021 first-round picks James Bouknight and Kai Jones haven't emerged as regular rotation players yet and shouldn't be untouchable. JT Thor, Nick Richards, and Vernon Carey would have less value, but could also be in play.
Plumlee, who is earning about $9.2MM, would be a logical salary-matching piece in any deal involving a center. His $9.1MM salary for next season is only partially guaranteed for about $4.3MM.
The Hornets have already traded away their 2022 first-round pick, which is protected through 2025, so if they put a first-rounder in an offer, it will have to be one that's still a few years out. Technically, they control the Pelicans' lottery-protected 2022 first-rounder and could trade it, but that pick will turn into a pair of second-rounders if New Orleans doesn't make the playoffs this spring.
---
Miami Heat
Trade deadline goals:
It could be a quiet deadline for the Heat, who will likely prioritize keeping all their stars healthy rather than on adding anyone new to their group. When Miami played in San Antonio on Thursday, it was the first time since November 27 that Jimmy Butler, Bam Adebayo, and Kyle Lowry were all on the court at the same time. Despite being plagued by the injury bug, the club remains firmly in the mix for the top seed in the East.
It's not inconceivable that the Heat could make a significant move — they've been linked to Rockets big man Christian Wood and have reportedly explored a package centered around Duncan Robinson. However, Robinson's three-point percentage has slipped this year and while his long-term contract is reasonable, it's not especially team-friendly. It'll be difficult for Miami to get an impact player back without attaching other assets to him — Houston would certainly want multiple additional pieces in any swap involving Wood.
Robinson is the only higher-salaried Heat player who can realistically be included in a deal, since Butler, Adebayo, Lowry, P.J. Tucker, and Tyler Herro are the only others earning more than the minimum.
With Markieff Morris' status up in the air, the Heat may try to acquire a backup power forward, but it won't be a surprise if eventually promoting two-way player Caleb Martin to the 15-man roster is their most impactful roster move the rest of the way.
Top trade candidates:
Although Robinson's 36.0% three-point rate is well below his career mark, his ability to stretch the floor and spread out opposing defenses is still an important part of Miami's offensive attack. The Heat wouldn't want to rely solely on Max Strus to fill that role on the wing, so if they do move Robinson, they'd want a reliable shooter in return.
If Robinson stays put, one or two minimum-salary players could be on the move in smaller deals. It wouldn't take much for the Heat to part with KZ Okpala, who is in a contract year and still hasn't become a regular. Rival clubs may also try to pry away Omer Yurtseven, who had some big games when Adebayo and Dewayne Dedmon were unavailable, but has fallen out of the rotation since Miami's top centers got healthy.
Miami has traded away its 2023 first-rounder, which is protected through 2025 before becoming unprotected in 2026. That means the Heat could conditionally offer their '25 first-rounder in a trade, but there's no guarantee it would actually change hands before 2028.
---
Orlando Magic
Trade deadline goals:
The Magic were the big seller at the 2021 trade deadline, acquiring a series of young prospects and draft picks in separate trades involving Nikola Vucevic, Aaron Gordon, and Evan Fournier.
Orlando's trade chips this season aren't as intriguing as they were last March, but the team's goal will be the same. With no urgency to push for a playoff spot in the next year or two, the Magic will focus on the future, trying to pick up a few extra assets in exchange for veterans who aren't in their long-term plans.
At 12-42, the Magic are in a tight race with the Pistons for the top spot in this year's draft lottery standings, so they'll be motivated to make moves that may hurt their on-court results in the short term.
Top trade candidates: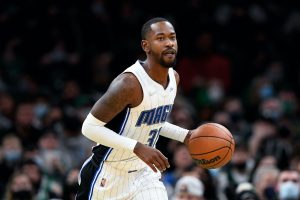 Veteran wings Terrence Ross and Gary Harris are the Magic's top trade chips. Unfortunately, neither player is without his warts.
Ross' $12.5MM cap hit this season and his $11.5MM salary for 2022/23 make him affordable and controllable, but his .311 3PT% this season is the worst of his career, dinging his value. Conversely, Harris is having a pretty solid bounce-back year, increasing his 3PT% to .385, but he's a rental and his $20.5MM salary will be trickier for some teams to accommodate.
If the Magic can get a first-round pick for either Ross or Harris, it'd be a major win. They'll likely have to settle for a return closer to what they got for Fournier (two second-rounders).
Besides Ross and Harris, there aren't a ton of obvious trade candidates on Orlando's roster. Robin Lopez has reportedly drawn a little interest, but the Magic may see more value in his locker-room leadership than in the late second-round pick they could potentially get for him. Michael Carter-Williams and E'Twaun Moore would be the types of veterans that could help a playoff team in a reserve role, but neither one has been healthy in months.
Mohamed Bamba is a wild card. The team's rookie scale extension with Wendell Carter Jr. in the fall seemed to signal that Bamba's days in Orlando were numbered, but he's enjoyed a nice breakout year ahead of restricted free agency. He'll probably draw trade interest, but the Magic may hang onto him until the offseason and then determine at that point whether they want to keep him. If they decide not to re-sign him, they still might be able to get something back in a sign-and-trade.
---
Washington Wizards
Trade deadline goals:
Things in D.C. looked pretty rosy less than three months ago — on November 16, the 10-3 Wizards controlled the top seed in the Eastern Conference. Since then, Washington has lost 25 of 39 games. The team now sits at 11th in the East, a game out of a play-in spot.
General manager Tommy Sheppard received a promotion and an extension on November 17, but he and his front office suddenly face a significant amount of pressure to make the right roster moves at the deadline to help the Wizards salvage their season.
It doesn't appear that trading Bradley Beal, who can opt out of his contract this summer, is an option the Wizards are seriously considering, so the goal at the deadline will be to acquire players who fit nicely alongside the star guard and can perhaps help convince him that signing a long-term contract with the franchise this summer is the best course of action.
Domantas Sabonis and Jerami Grant have been among the players most frequently mentioned as the top targets on Washington's wish list.
Top trade candidates:
If the Wizards really want to land a player like Sabonis or Grant, they'll have to be willing to part with some of their young talent to make it happen. I'd expect that any deal for Grant would have to involve at least one of Deni Avdija, Rui Hachimura, or Corey Kispert. More than one of those three prospects would likely have to be included in a package for Sabonis.
Even if the Wizards would prefer to trade draft picks, their next few first-round selections are off the table — Washington owes its 2023 first-rounder to Houston, and that pick is protected through 2026, meaning the 2028 pick is the only one the team could unconditionally offer at this point.
A number of Wizards veterans are reportedly available via trade, including Montrezl Harrell, Thomas Bryant, Spencer Dinwiddie, and Davis Bertans. None of them would have much value on their own though. Dinwiddie and Bertans, in particular, could be tricky to move — they're on pricey multiyear deals and haven't played well this season.