1:16pm: The deal is official, according to a press release from the Magic. As expected, the team has waived Moore and Carter-Williams.
---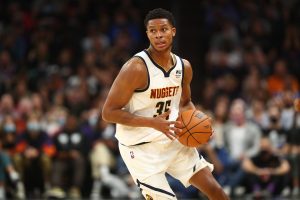 1:00pm: The Magic will acquire the Celtics' 2028 second-round pick (top-45 protected) in the deal, while Boston will get the Magic's 2023 second-rounder (top-55 protected), reports Price (via Twitter).
---
12:12pm: The Magic will waive veteran guard E'Twaun Moore as part of the deal, reports Chris Haynes of Yahoo Sports (Twitter link). Orlando is also cutting Michael Carter-Williams, tweets Khobi Price of The Orlando Sentinel. Both players have been out all season due to injuries.
Brian Robb of MassLive.com confirms (via Twitter) that the second-round pick headed to Boston in the deal will be heavily protected and likely won't convey.
---
11:34am: The Celtics have reached an agreement to trade injured players Bol Bol and PJ Dozier to the Magic, according to ESPN's Adrian Wojnarowski (via Twitter). It's a cost-cutting move for the Celtics, who will dip below the luxury tax line as a result of the deal.
Boston is sending a second-round pick and cash to Orlando and will get a second-round pick in return, Wojnarowski reports. I'd expect the second-rounder headed to the Celtics to be heavily protected, but we'll await further details.
Bol and Dozier were sent from Denver to Boston earlier this season in a three-team trade, but neither player was part of the Celtics' short- or long-term plans. Bol underwent foot surgery that is expected to sideline him for most or all of the season, while Dozier is recovering from a surgery of his own to repair a torn ACL and won't play until 2022/23.
Both players are on expiring deals, with Bol earning $2.2MM this season and Dozier making $1.9MM. Orlando will acquire both players using trade exceptions, while Boston will create a pair of new trade exceptions equivalent to their salaries.
The Celtics now have a pair of open roster spots and will remain out of tax territory even in the unlikely event that Jaylen Brown is named an All-Star replacement and earns a bonus. As Bobby Marks of ESPN notes (via Twitter), the C's would've had a small tax bill of about $2MM if they hadn't made a move, but they're now in line to receive a potential eight-figure payout.
While Boston doesn't have to make any more moves today, Adam Himmelsbach of The Boston Globe (Twitter link) hears that there are still three or four teams in the mix for Dennis Schröder, with one source estimating there's a 50/50 chance of a deal.
The Magic have a full 15-man roster, so they'll have to make at least one more move in order to accommodate the incoming players.