FEBRUARY 16: The Bucks have officially signed Bembry, the team announced today in a press release. Bembry will earn just shy of $602K on his rest-of-season contract, while Milwaukee takes on a cap hit of about $518K. Since the Bucks are over the luxury tax line, their projected tax bill will also increase as a result of the move.
---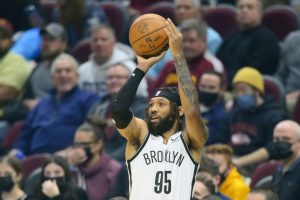 FEBRUARY 15: The Bucks are close to completing a deal with free agent swingman DeAndre' Bembry, tweets ESPN's Adrian Wojnarowski.
Bembry, who was waived by the Nets last Thursday to open a roster spot in the James Harden deal, will sign with Milwaukee for the rest of the season, according to Wojnarowski.
The deal will give Milwaukee some extra depth on the wing following last week's trades of Donte DiVincenzo and Rodney Hood, as well as Pat Connaughton's subsequent hand injury.
Bembry, 27, was in his first season with Brooklyn after agreeing to a partially guaranteed contract heading into training camp. He eventually earned a fully guaranteed deal and appeared in 48 games with the Nets, starting 20. He averaged 5.8 points and 3.2 rebounds in 19.8 minutes per night.
Once the signing becomes official, the Bucks will be up to 13 players on their roster, plus a pair of two-way deals. They will need to add at least one more player to reach the league minimum and have been rumored as a possible location for Goran Dragic, who reached a buyout with the Spurs earlier today.