7:54pm: The three-team trade is now official, the Jazz, Blazers and Spurs announced.
---
2:24pm: The Jazz are sending Memphis' 2022 second-round pick to Portland in the trade and will send a 2027 second-rounder to San Antonio, reports Wojnarowski (via Twitter).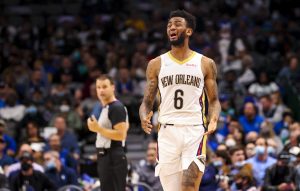 Utah has already traded away its own 2027 second-rounder, so the pick going to San Antonio will likely be the least favorable of Oklahoma City's, Houston's, Indiana's, and Miami's '27 second-rounders. The Jazz previously acquired that pick from the Thunder in the 2021 offseason.
---
1:13pm: The Jazz, Spurs, and Trail Blazers have reached an agreement on a three-team trade, sources tell Adrian Wojnarowski of ESPN (Twitter link).
According to Wojnarowski, Utah will acquire Nickeil Alexander-Walker from Portland and Juan Hernangomez from San Antonio. The Spurs will receive Tomas Satoransky and a second-round pick, while the Blazers will get Joe Ingles, Elijah Hughes, and a second-round pick. Both second-rounders will be coming from the Jazz, Woj adds (via Twitter).
Even before Ingles went down with a season-ending ACL tear, the Jazz had been exploring the market to see if they could find an upgrade on the wing using his expiring contract and a draft pick. Following the injury, Ingles' value dipped, and Utah apparently decided none of the options available for the forward's expiring deal and a first-round pick were worth moving forward on.
Instead, the Jazz will make a move that sees them sacrifice a pair of future second-round selections – rather than a first-rounder – for two healthy players, while reducing their projected tax bill in the process. Bobby Marks of ESPN (Twitter link) estimates $11MM in tax savings. Utah should also create a new trade exception worth nearly $10MM by taking Hernangomez into an existing TPE.
Alexander-Walker, a third-year guard, had a promising sophomore season in 2020/21, but has struggled to score efficiently this season, averaging 12.8 PPG on .375/.311/.722 shooting in 50 games (26.3 MPG). He has spent most of the season in New Orleans, having been sent to Portland on Monday in the CJ McCollum trade. The 23-year-old has a $3.3MM salary this season and will make $5MM next season before becoming eligible for restricted free agency.
Hernangomez has had some success in the past as a stretch four, but has played poorly in limited minutes this season, putting up 1.1 PPG and 1.7 RPG on 21.2% shooting in 23 games (6.4 MPG). He was traded from Boston to San Antonio in last month's three-team Bryn Forbes deal. Hernangomez is essentially on an expiring contract, since his $7.4MM salary for next season is non-guaranteed.
From San Antonio's perspective, the deal is about picking up an extra draft asset. Neither Hernangomez nor Satoransky is in the team's long-term plans, so the Spurs were rewarded for their willingness to add to this season's payroll by taking on a slightly bigger contract (Satoransky has a $10MM expiring salary).
The Blazers, meanwhile, continue to wheel and deal, agreeing to their third trade in the last week. It appears they weren't particularly high on Alexander-Walker, choosing to flip him right away in a deal that clears another $5MM off their books for 2022/23 and nets them another second-round pick.
Both Ingles and Hughes will be free agents this offseason. Ingles spoke last week about remaining in Utah to rehab his knee injury even if he were traded and said he'd be interested in eventually re-signing with the Jazz (Twitter links via Eric Walden of The Salt Lake Tribune).
[RELATED: Joe Ingles Has "No Doubt" He'll Come Back From ACL Tear]
Despite the fact that Satoransky, Alexander-Walker, and Hernangomez were recently traded, the NBA's rules don't prevent them from being moved again right away, since they're not being aggregated with a second player for salary-matching purposes in this deal.
From Portland's perspective, Satoransky's salary is being used to match Ingles' $13MM cap charge, with Alexander-Walker's salary not required for matching purposes (the Blazers will create a trade exception worth his $3.3MM cap hit), since Hughes can be acquired using a minimum salary exception. San Antonio is trading Hernangomez on his own for Satoransky.