FEBRUARY 24: The Bucks have officially signed Carter, according to a team press release.
---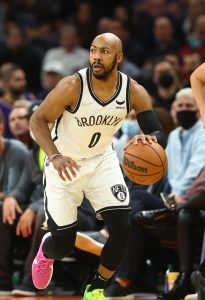 FEBRUARY 22: Fourth-year guard Jevon Carter intends to sign with the Bucks after he clears waivers, agents Mark Bartelstein and Reggie Brown of Priority Sports tell Adrian Wojnarowski of ESPN (Twitter link).
The Bucks were said to be seriously pursuing Goran Dragic in order to add some depth to their backcourt. Having missed out on the 35-year-old, they'll instead sign the player who was released to make room for Dragic in Brooklyn. The Nets officially announced earlier today that they've waived Carter.
Carter, 26, began his NBA career in Memphis in 2018 and had a couple promising seasons in Phoenix from 2019-21, averaging 4.5 PPG and 1.8 RPG on .418/.397/.789 shooting and playing solid defense in 118 games (14.1 MPG) for the Suns.
He was traded to Brooklyn during the offseason in a deal that sent Landry Shamet to the Suns, but struggled with the Nets. His shooting percentage dipped to 33.3% and he wasn't a consistent part of the rotation after the first month of the season.
While Wojnarowski's report says Carter will clear waivers on Wednesday, it looks like it'll actually happen on Thursday, unless the Nets cut him a day before they officially announced the move. As we observed on Monday, Milwaukee needs to make a roster addition on or before Thursday in order to get back to the league-mandated 14-player minimum — it appears Carter will be the team's new 14th man.
The Nets will remain on the hook for Carter's $3.9MM guaranteed salary for 2022/23 after he clears waivers and signs with the Bucks.