FEBRUARY 22:  The Nets have officially signed Dragic and waived Carter, the team announced in a press release.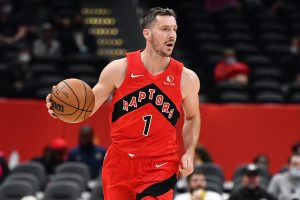 Dragic's rest-of-season contract will pay him $728,742 and will have a cap hit of $460,463. Since Brooklyn is well over the tax line, the club's end-of-season tax bill will further increase as a result of the signing.
---
FEBRUARY 21: After being bought out by the Spurs last week, point guard Goran Dragic has made a decision on his next team, according to Shams Charania of The Athletic, who reports (via Twitter) that Dragic will sign with the Nets.
Dragic, who was traded from Toronto to San Antonio at this month's deadline, had reportedly been considering a handful of suitors, including the Bucks, Warriors, Bulls, Lakers, and Clippers.
Dallas, where Dragic would've had the opportunity to team up with fellow Slovenian Luka Doncic, had also been considered a potential landing spot earlier in the season. However, the Mavericks weren't said to be in the mix for him following his buyout, having acquired another point guard (Spencer Dinwiddie) at the trade deadline.
In Brooklyn, Dragic should get the opportunity to share point guard duties with Patty Mills. Kyrie Irving and Ben Simmons, of course, will be in the mix as well, but Irving is ineligible for home games as long as New York City's vaccine mandate remains in place and it's unclear when Simmons will make his Nets debut.
The move to Brooklyn will also give Dragic an opportunity to reunite with head coach Steve Nash, who played in Phoenix when Dragic first entered the NBA as a Sun. Marc Stein reported on Sunday that Nash was very involved in the process of recruiting his former teammate.
Dragic averaged 13.4 PPG, 4.4 APG, and 3.4 RPG on .432/.373/.828 shooting in 50 games (26.7 MPG) for the Heat in 2020/21. However, he appeared in just five games for the Raptors this season after being sent to Toronto as part of the Kyle Lowry sign-and-trade. He hasn't played since November, having taken a personal leave of absence from the Raptors up until he was traded to San Antonio.
The Nets have a full 15-man roster and will have to waive a player in order to officially sign Dragic. That player will be guard Jevon Carter, sources tell ESPN's Adrian Wojnarowski (Twitter link). The team will have the option of stretching Carter's guaranteed $3.925MM salary for 2022/23 across three seasons. His current $3.65MM salary will remain on the '21/22 cap.
Brooklyn used its full mid-level exception to sign Mills in the offseason and doesn't have its bi-annual exception available, so Dragic will sign a minimum-salary contract with the club. The exact value of his deal will depend on when he officially signs, but the 35-year-old will earn $15,182 per day.