9:13pm: The signing under the hardship exception is official, according to a team press release.
---
12:40pm: The Trail Blazers intend to sign center Drew Eubanks to another 10-day contract, which will be his fourth consecutive deal with the team, sources tell ESPN's Adrian Wojnarowski (via Twitter).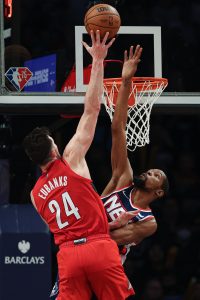 The 25-year-old has performed well through 13 games (28.1 minutes) with Portland, averaging 12.3 points, 8.2 rebounds and 1.8 assists on .624/.286/.880 shooting (only seven attempts from deep). He's started all 13 games in place of the injured Jusuf Nurkic.
Most of this year's 10-day hardship contracts have been completed using the COVID-related hardship exception, but Eubanks has been signed multiple times using an injury-related hardship exception. A team qualifies for an injury-related hardship exception if it has at least four players who have missed three or more consecutive games, as long as those players project to remain sidelined for at least the next couple weeks.
Portland has at least six such players – Nurkic, Damian Lillard, Nassir Little, Didi Louzada, Joe Ingles, and Eric Bledsoe – and possibly as many as seven, if Anfernee Simons isn't expected to return soon. That's why the club is eligible for the hardship exception.
Eubanks' last 10-day deal expired overnight. His new 10-day contract will pay him $99,380.