11:56am: The Hornets officially announced in a press release that they've relieved Borrego of his duties as head coach.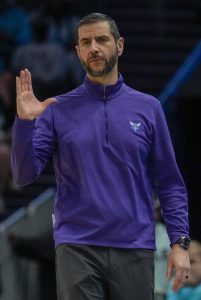 "I want to thank JB for his hard work and commitment during these past four seasons," president of basketball operations Mitch Kupchak said in a statement. "Beyond his work as a coach, he is a tremendous person. I wish him and his family the best in the future. These decisions are always difficult. Having said that, we have a talented, young core of players which has me very excited about the future of the Hornets. We will begin the search for our new head coach immediately."
---
10:46am: The Hornets are dismissing head coach James Borrego, sources tell ESPN's Adrian Wojnarowski (Twitter link).
Borrego is just one year removed from signing a contract extension with Charlotte. After having his option for 2021/22 picked up, Borrego agreed to a new deal that reportedly tacked on at least two years to his previous contract. However, it appears the Hornets are letting him go before that contract even takes effect.
A former Spurs assistant, Borrego was hired to replace Steve Clifford in 2018. He led the team to a 39-43 record in his first year, then posted a 23-42 mark in year two after losing Kemba Walker in free agency.
In the last two years, however, the Hornets had been taking positive steps forward, led by young cornerstones LaMelo Ball and Miles Bridges, in addition to veteran additions like Gordon Hayward and Terry Rozier.
Charlotte went 33-39 in 2020/21 and 43-39 this season, despite missing Hayward due to injuries for a significant portion of this year. In both 2021 and 2022, the team made the play-in tournament, but was blown out in its first game and eliminated from playoff contention.
As Wojnarowski observes (via Twitter), the decision to move on from Borrego is somewhat surprising, but it seems that Hornets leadership decided that the team's poor play-in showings and lack of playoff berths negated the positive development shown by Ball, Bridges, and – prior to his 2021 departure – Devonte' Graham.
Jake Fischer of Bleacher Report wrote earlier this month that there had been some speculation about the possibility of the Hornets replacing Borrego if the team didn't make the playoffs, but Fischer said at the time there was a "heavier dose of optimism" that the head coach would stick around. One rival assistant GM told Bleacher Report "it would make no sense" to fire him, given the progress he had made with the team's young core.
The Hornets will be the third team this offseason to launch a search for a new head coach, joining the Lakers and Kings.