The Pacers will promote both of their two-way players, Duane Washington and Terry Taylor, to the standard 15-man roster and sign them to new multiyear contracts, reports Adrian Wojnarowski of ESPN (Twitter link).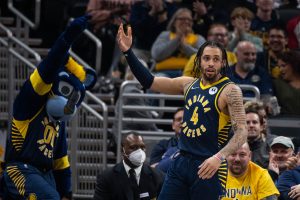 Indiana has a full 15-man roster and will need to make room for Washington and Terry. Justin Anderson's 10-day deal expires tonight, so he'll likely be one casualty of the roster crunch. The other will be guard Keifer Sykes, who is being waived, according to Shams Charania of The Athletic (Twitter link).
Washington, 22, signed a two-way contract with the Pacers last August after going undrafted out of Ohio State. He has averaged 9.6 PPG, 1.8 RPG, and 1.8 APG in 46 NBA appearances (20.1 MPG), with a shooting line of .394/.366/.763.
Taylor initially signed an Exhibit 10 deal to join Indiana for training camp, then was waived in October before rejoining the team in December on a two-way contract. He has since made a strong impression on the franchise by putting up 9.6 PPG and 5.2 RPG with a .629 FG% in 31 games (21.3 MPG).
Obviously, the lottery-bound Pacers don't need to worry about either Washington or Taylor being playoff-eligible, so their promotions are more about locking them up to team-friendly contracts rather than having them become free agents this offseason. The terms of the new deals are unclear, but they're unlikely to be fully guaranteed or worth more than the minimum beyond this season.
Sykes, also a first-year player, was another Pacers camp invitee who was released in October before rejoining the team in December. The 28-year-old averaged 5.6 PPG and 1.9 APG on .363/.300/.882 shooting in 32 games (17.7 MPG). Sykes had been on a two-year contract, but his salary for 2022/23 wasn't guaranteed, so Indiana won't be on the hook for any money beyond this season.
After officially promoting Washington and Taylor, the Pacers will have a pair of open two-way slots that they could fill before the regular season ends on Sunday if they so choose.