A player who has no more than six years of NBA experience is typically eligible for a maximum salary starting at 25% of the salary cap; a player with between seven and nine years of NBA service is eligible for a max deal starting at 30% of the cap; and a player with 10 or more years of experience can earn a starting salary worth up to 35% of the cap.
However, the NBA's super-max rules, which we explain in a pair of glossary entries, allow players who don't yet have 10 years of experience to move into higher maximum-salary tiers. By meeting certain criteria, players with seven to nine years of experience can become eligible for salaries worth up to 35% of the cap, while players with six years (or less) of service time can qualify for up to 30% of the cap.
The super-max performance criteria is as follows (only one of the following must be true):
The player was named to an All-NBA team and/or was named the NBA Defensive Player of the Year in the most recent season, or in two of the last three seasons.
The player was named the NBA MVP in any of the three most recent seasons.
A player who has seven or eight years of NBA service with one or two years left on his contract becomes eligible for what is known as a "Designated Veteran" extension if he meets the required performance criteria and hasn't been traded since his first four years in the league. A Designated Veteran contract can also be signed by a player who is technically a free agent if he has eight or nine years of service and meets the required criteria.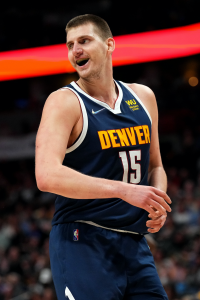 Nuggets star Nikola Jokic met the super-max performance criteria a year ago when he won his first MVP award. However, since he still only had six years of NBA experience under his belt at the time, he couldn't actually sign a Designated Veteran extension with Denver until the summer of 2022. The expectation is that Jokic will sign a five-year contract extension with a starting salary worth 35% of the 2023/24 cap this offseason.
Players who are coming off their rookie contracts and meet the super-max performance criteria become eligible for what is colloquially known as a "Rose Rule" contract, starting at 30% of the cap instead of 25%. The rule is unofficially named after Derrick Rose, who won an MVP award in 2011 while he was still on his rookie deal.
Mavericks star Luka Doncic qualified for a Rose Rule super-max deal by earning All-NBA honors in his second and third NBA seasons in 2020 and 2021. Even if he doesn't make an All-NBA team this season (he will), he already met the performance criteria by being named an All-NBA player in two of the three seasons before his new contract will take effect. When the Mavs signed Doncic to a rookie scale extension last offseason, they agreed it would start at 30% of the 2022/23 cap. Currently, that five-year deal projects to be worth over $212MM.
Not every player is as fortunate as Jokic or Doncic though. Most of the players who have a shot at becoming eligible for a super-max contract this year will need to earn a spot on one of the 2021/22 All-NBA teams in order to qualify.
Here's a closer look at some of the players who have a lot riding on this season's All-NBA picks from a financial perspective:
---
When Young signed a five-year, maximum-salary rookie scale extension with the Hawks last August, the two sides agreed to include Rose Rule language in the agreement, opening the door for Young's starting salary to be worth 30% of the cap (instead of 25%) when the deal begins in 2022/23. In order for that to happen though, Young has to earn one of 15 All-NBA spots this season.
It looked in the first half, as Atlanta got off to a 17-25 start, like Young would be a long shot to make an All-NBA team. However, as they did a year ago, the Hawks have played much better in the second half and Young has been leading the team's push for a playoff spot.
Young's season-long averages of 28.3 PPG and 9.7 APG in 74 games (34.9 MPG) make him a legitimate All-NBA candidate, even if he's penalized a little for his subpar defense. While Luka Doncic, Stephen Curry, Devin Booker, and Ja Morant are probably ahead of him among potential All-NBA guards, Young looks like a strong Third Team contender, especially if voters consider DeMar DeRozan to be a forward.
Based on the NBA's latest cap projections, Young would be in line for a $212.3MM payday if he's named to an All-NBA team or $176.9MM if he isn't. That's a difference of more than $35MM, so voters will have to think carefully about which players they select as their six All-NBA guards this spring.
---
Unlike Young, Towns and Booker have yet to lock in extensions with their respective teams and aren't facing do-or-die All-NBA decisions this spring. However, both players would become eligible for super-max contract extensions (worth 35% of the cap instead of 30%) if they're named to an All-NBA team this season.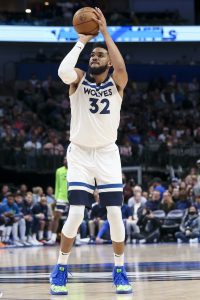 The current contracts for Towns and Booker are virtually identical, and if they both earn All-NBA nods, their next deals could be too. With seven years of NBA experience and two years left on their respective contracts, they'd be eligible to sign four-year, Designated Veteran extensions this offseason.
Those deals wouldn't go into effect until 2024/25, so it's difficult to pin down exactly how much they'd be worth. We don't yet have solid cap projections for that season. But if we assume a $130MM salary cap for that '24/25, a four-year contract starting at 35% of the cap would work out to approximately $204MM.
First though, Towns and Booker will need to earn All-NBA spots. Booker looks like a lock, having been the go-to offensive option for the league's best team.
Towns' spot isn't quite as certain, since he'll be behind centers Nikola Jokic and Joel Embiid, and Rudy Gobert's defensive dominance always makes him an All-NBA threat. But I think voters will favor Towns over Gobert and other centers (such as Bam Adebayo). There's even a possibility that both Jokic and Embiid could end up on the First Team if voters put one of the two stars at forward, which would leave both the Second Team and Third Team center spots up for grabs and make Towns a slam-dunk choice.
---
LaVine will have eight years of NBA service under his belt when he becomes an unrestricted free agent this offseason and will be eligible for a maximum salary starting at 30% of the cap. An All-NBA nod would bump that number up to 35%, but that doesn't look nearly as realistic for LaVine as it did earlier in the season.
Slowed by knee pain, LaVine has seen his numbers dip a little in the second half, and while they're still strong overall (24.4 PPG on .475/.389/.852 shooting), his teammate DeRozan is more likely to earn All-NBA accolades. And after slipping to sixth in the Eastern Conference standings, Chicago is unlikely to be rewarded with two All-NBA selections.
Assuming LaVine doesn't make an All-NBA team, his projected five-year maximum contract with the Bulls will be worth $212.3MM instead of $247.7MM.
---
The rest
The players listed above aren't the only ones who have super-max eligibility on the line with this year's All-NBA vote. But they're the only ones among that group who are realistic candidates to actually make one of those All-NBA teams.
Shai Gilgeous-Alexander and Michael Porter Jr., for instance, signed rookie scale extensions with Rose Rule language last offseason and would be eligible for higher max salaries if they make an All-NBA team, but obviously they won't. Suns center Deandre Ayton, a restricted free agent this summer, would qualify for a 30% max salary with an All-NBA spot, and he certainly has a better case than Gilgeous-Alexander or Porter. But he'll fall short too.
When this season's All-NBA teams are eventually announced, Young, Towns, Booker, and – to a lesser extent – LaVine are the best candidates to benefit financially.