The Kings' 2021/22 season got off to a rough start and didn't get any better from there. Sacramento became the first and only team to make an in-season coaching change in '21/22, and Alvin Gentry's winning percentage (.369) after replacing Luke Walton was barely an improvement on Walton's mark (.353).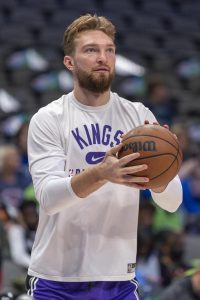 The Kings made a major splash at the trade deadline when they sent 2020 first-round pick Tyrese Haliburton to Indiana in a six-player deal that landed two-time All-Star Domantas Sabonis in Sacramento, and there was some brief hope that the acquisition of Sabonis could help push the team into play-in territory during the home stretch of the season.
However, the Kings continued to lose games after the trade and ultimately shut down Sabonis and De'Aaron Fox, neither of whom played in the final three weeks of the season due to injuries. The end result? Sacramento is now the holder of an ignominious NBA record, having missed the playoffs for a 16th consecutive season.
---
The Kings' Offseason Plan:
The Kings will be laser-focused on ending their postseason drought in 2022/23 and general manager Monte McNair will certainly be feeling some pressure to make it happen, since he's reportedly entering the final year of his contract.
Sacramento's desire to be a playoff team raises some interesting questions about the No. 4 overall pick in the draft. With Chet Holmgren, Jabari Smith, and Paolo Banchero likely to come off the board in the top three, would the Kings target an older prospect who is considered more NBA-ready, such as forward Keegan Murray? Are they interested in rolling the dice on guard Jaden Ivey to create an electric offensive backcourt, even if it creates more questions about how their defense would hold up? Would they be willing to put that fourth overall pick in a trade for an impact veteran?
It's a tricky spot for McNair. There's certainly no guarantee that the Kings will be able to add a franchise player at No. 4, but it's still such a valuable asset that they'd want to acquire a legitimate star if they were to trade it. Will a player of that caliber be out there this summer? If not, could the Kings consider a deal where they move down a few spots in the draft and acquire a starter-caliber veteran rather than a potential All-Star?
Whether they keep it or trade it, that No. 4 pick will be the Kings' best bet to acquire impact talent, since they won't have cap room available to make waves in free agency. Re-signing restricted free agent Donte DiVincenzo and using their mid-level exception on a rotation player could be the extent of Sacramento's free agent moves.
If they do hang onto their lottery pick, there are some other ways the Kings could get involved in trade discussions.
Center Richaun Holmes looks like the most obvious trade chip on the roster — the four-year, $46.5MM contract he signed last summer seemed pretty team-friendly at the time, but Holmes struggled to find his niche following the acquisition of Sabonis and his stock has dipped a little over the last year. Still, he's in his prime at age 28 and he should draw interest from teams in need of help at center.
The Kings will also have to decide whether they consider forward Harrison Barnes part of their long-term future. Barnes is a solid – but not spectacular – scorer and defender who is entering a contract year. His expiring $18.4MM deal would have positive value, but he's also the sort of player who should fit well alongside Fox and Sabonis, so a possible contract extension shouldn't be ruled out either.
Other non-core pieces on expiring contracts include Justin Holiday, Terence Davis, Maurice Harkless, and Alex Len. While there shouldn't be any urgency to move any of those four, I imagine the Kings would be open to discussing any of them if rival teams inquire.
Of course, Sacramento has already made one of its biggest offseason decisions, announcing earlier this month that Warriors assistant Mike Brown will be the team's next head coach. The Kings wanted a coach who had experience turning a lottery team into a playoff club. Brown technically fits that bill, having done so in Cleveland, but he had plenty of help from LeBron James in that instance — he'll face a more significant challenge trying to repeat that feat in Sacramento without one of the NBA's all-time greats on his roster.
---
Salary Cap Situation
Note: Our salary cap figures are based on the league's latest projection ($122MM) for 2022/23.
Guaranteed Salary
De'Aaron Fox ($30,351,780)
Domantas Sabonis ($18,500,000)
Harrison Barnes ($18,352,273)
Richaun Holmes ($11,215,260)
Justin Holiday ($6,292,440)
Davion Mitchell ($4,833,600)
Maurice Harkless ($4,564,980)
Terence Davis ($4,000,000)
Alex Len ($3,918,000)
Total: $102,028,333

Player Options
Team Options
Non-Guaranteed Salary
Restricted Free Agents
Two-Way Free Agents
Draft Picks
No. 4 overall pick ($7,901,280)
No. 37 overall pick (no cap hold)
No. 49 overall pick (no cap hold)
Total: $7,901,280
Extension-Eligible Players
Note: These are players who are either already eligible for an extension or will become eligible before the 2022/23 season begins.
Harrison Barnes (veteran)
Justin Holiday (veteran)
Domantas Sabonis (veteran)
Unrestricted Free Agents / Other Cap Holds
Jeremy Lamb ($15,750,000 cap hold): Bird rights
Josh Jackson ($6,506,955 cap hold): Early Bird rights
Damian Jones ($1,811,516 cap hold): Early Bird rights
Corey Brewer ($1,811,516 cap hold): Early Bird rights 2
Total: $25,879,987
Offseason Cap Outlook

Accounting for their guaranteed salaries and the cap hold for their first-round pick, the Kings will have about $110MM on their books, putting them in position to be an over-the-cap team. They should be able to re-sign DiVincenzo to a fair contract and use their full $10MM+ mid-level exception without going into luxury-tax territory, if they so choose.
Cap Exceptions Available
Mid-level exception: $10,349,000 3
Bi-annual exception: $4,050,000 3
Trade exception: $4,023,600
Trade exception: $1,630,934
Footnotes
Metu's salary will become fully guaranteed after June 29.
The cap hold for Brewer remain on the Kings' books from a prior season because he hasn't been renounced. He can't be used in a sign-and-trade deal.
These are projected values.
---
Salary and cap information from Basketball Insiders and RealGM was used in the creation of this post.