The first four weeks of the 2021/22 season couldn't have gone any better for the Wizards. On the morning of November 17, the team sat atop the Eastern Conference with a 10-3 record, Wes Unseld Jr. looked like the most impressive hire of the NBA's first-time head coaches, and head of basketball operations Tommy Sheppard had just received a promotion and a contract extension.
Things didn't immediately go into a tailspin from there – the Wizards were still over .500 two months later – but that first month was the peak of Washington's season. Spencer Dinwiddie, the team's big acquisition of the 2021 offseason, never quite fit in; Bradley Beal battled health issues; and the defense that ranked fourth in the NBA during that 10-3 start was just 26th the rest of the way.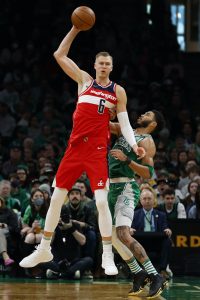 The Wizards ultimately finished well out of the play-in picture with a 35-47 record and now face a pivotal offseason, with Beal up for a new contract and Kristaps Porzingis – acquired for Dinwiddie and Davis Bertans in February – suddenly part of the long-term plan in D.C.
---
The Wizards' Offseason Plan:
Beal is considered likely to turn down his $36.4MM player option in order to sign a new long-term contract this month, and reports in recent months have given no indication that he's looking for an exit ramp out of Washington.
It's good news for the Wizards that their franchise player isn't forcing his way out, but if Beal wants to stay, that creates a new dilemma for the organization. Is it really prudent to lock up an offense-first shooting guard who is coming off a down year and entering his age-29 season to a five-year contract projected to be worth $247MM? And if the Wizards aren't entirely comfortable with offering that full five-year max, how would that affect Beal's desire to stick around?
It's a tough spot for the Wizards and for Sheppard, who would scarcely have time for a victory lap if he re-signs Beal, since he'll immediately be under pressure to figure out how best to surround him with enough talent to turn the team into a contender. The pre-deadline acquisition of Porzingis is an intriguing start, but as the Mavericks learned, figuring out how to maximize KP's talent and keep him healthy is easier said than done.
Assuming Beal is back, the Wizards will likely be operating as an over-the-cap team, so they'll have to fill their other roster holes on the trade market or using their mid-level exception. Following the failed experiment with Dinwiddie, the point guard spot is the most glaring of those holes and it'll be fascinating to see what path the club takes to address that need.
Theoretically, a backcourt player who can handle tougher defensive assignments and space the floor would make sense as a fit next to Beal, but it'll be a challenge to find that kind of player on the free agent market, especially at a mid-level price point. Malcolm Brogdon, rumored to be an offseason trade candidate, might be an intriguing target, though acquiring the Pacers guard would mean leaning even more heavily on players with extensive injury histories.
If the Wizards head to the trade market to seek an upgrade at point guard or another position, teams will likely ask for at least one of their recent first-round selections — Rui Hachimura, Deni Avdija, and Corey Kispert.
All have shown flashes of potential, but none has emerged as a reliable starting-caliber player yet. Hachimura, who got the closest this past season, will be extension-eligible this summer, so Washington will soon have to make some decisions on which of those young players are part of the team's future and which could instead be trade chips.
The Wizards are in position to add one more lottery-caliber prospect to their roster next month, as they currently hold the No. 10 pick in the draft.
They may simply pick whichever player is atop their draft board at that spot, prioritizing talent over fit. But it's worth noting that Wisconsin's Johnny Davis, a versatile defender who can play either position in the backcourt, has been projected in that range. Duke's AJ Griffin, one of the best shooters and youngest players in the draft, would also be a nice match if he makes it to No. 10.
---
Salary Cap Situation
Note: Our salary cap figures are based on the league's latest projection ($122MM) for 2022/23.
Guaranteed Salary
Kristaps Porzingis ($33,833,400)
Kyle Kuzma ($13,000,000)
Rui Hachimura ($6,263,188)
Deni Avdija ($4,916,160)
Kentavious Caldwell-Pope ($4,888,118) — Partial guarantee. Rest of salary is noted in non-guaranteed section below. 1
Corey Kispert ($3,552,840)
Daniel Gafford ($1,903,681)
Vernon Carey Jr. ($1,782,621)
Isaiah Todd ($1,563,518)
Jordan Schakel (two-way)
Total: $71,703,526

Player Options
Team Options
Non-Guaranteed Salary
Kentavious Caldwell-Pope ($9,116,585) 1
Ish Smith ($4,725,000) 2
Total: $13,841,585
Restricted Free Agents
Two-Way Free Agents
Draft Picks
No. 10 overall pick ($4,746,000)
No. 54 overall pick (no cap hold)
Total: $4,746,000
Extension-Eligible Players
Note: These are players who are either already eligible for an extension or will become eligible before the 2022/23 season begins.
Bradley Beal (veteran) 3
Kentavious Caldwell-Pope (veteran)
Vernon Carey Jr. (veteran)
Rui Hachimura (rookie scale)
Kyle Kuzma (veteran)
Kristaps Porzingis (veteran)
Unrestricted Free Agents / Other Cap Holds
Ian Mahinmi ($23,175,077 cap hold): Bird rights 4
Thomas Bryant ($16,466,667 cap hold): Bird rights
Ty Lawson ($1,811,516 cap hold): Non-Bird rights 4
Shabazz Napier ($1,811,516 cap hold): Early Bird rights 4
Raul Neto ($1,811,516 cap hold): Early Bird rights
Tomas Satoransky ($1,811,516 cap hold): Non-Bird rights
Ramon Sessions ($1,811,516 cap hold): Non-Bird rights 4
Johnathan Williams ($1,616,044 cap hold): Non-Bird rights 4
Total: $50,315,368

Offseason Cap Outlook

Washington's cap outlook hinges on what happens with Beal. Although they only have about $76MM in guaranteed salary on the books after accounting for the No. 1 pick, a $40MM+ investment in the star guard would essentially eliminate the Wizards' cap room, especially if they guarantee the remainder of Caldwell-Pope's salary.
If Beal departs, the team could theoretically open up a significant amount of space, but that would depend on whether he's signed-and-traded. In that scenario, the Wizards would likely end up taking back a significant chunk of salary and could end up over the cap anyway.
Cap Exceptions Available
Mid-level exception: $10,349,000 5
Bi-annual exception: $4,050,000 5
Trade exception: $5,220,900
Trade exception: $3,980,551
Footnotes
Caldwell-Pope's salary will become fully guaranteed after June 28.
Smith's salary will become fully guaranteed after July 1.
Beal would only be eligible if his option is exercised.
The cap holds for these players remain on the Wizards' books from prior seasons because they haven't been renounced. They can't be used in a sign-and-trade deal.
These are projected values.
---
Salary and cap information from Basketball Insiders and RealGM was used in the creation of this post.