Ben Simmons and the Sixers could never get on the same page last offseason, but it sounds like things will be different with the Nets, writes Brian Lewis of The New York Post. Simmons and his representatives will work with the team on a plan to optimize his physical and mental health in advance of training camp, a source close to Simmons tells Lewis.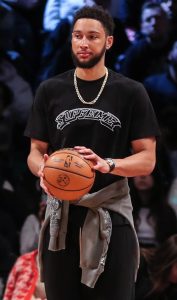 "We will work together with the Nets on a summer plan," the source said. "Everyone is confident." 
Simmons is recovering from microdiscectomy surgery that he underwent May 4 because of a herniated L-4 disk in his lower back. He is expected to need three months of rehab before he can start playing again, and Nets officials want him to do as much of that work as possible in Brooklyn.
One encouraging sign, according to Lewis, is that Simmons has agreed to sell his mansion in South Jersey and his condo in downtown Philadelphia.
At a press conference this week, Brooklyn general manager Sean Marks said Simmons is "feeling relief already" from the operation and expressed optimism that he will be back at full strength next season.
Sixers president Daryl Morey admitted that he couldn't build a rapport with Simmons, who wasn't willing to open up to the team's mental health professionals, Lewis adds. No agreement has been reached yet on whether Simmons will see therapists who work for the Nets, but Marks said there will be benefits from having him at the team's training facility and being around his teammates and coaches.
"[The question] of how do we support him through the mental performance side of things, that's a touchy subject," Marks said. "I don't want to talk about someone's mental health or mental performance. I'm going to let Ben address that at the correct time. I will say this: Whether it's the NBA or whether, what everyone's been going through, I look around and I'd love to [see] if there's anyone out there who hasn't had some type of mental fatigue over the last two years.  This has not been easy for anybody. I'm not making an excuse with anyone in the pro sports area, but we all need support. And we're coming through it. And same for Ben."